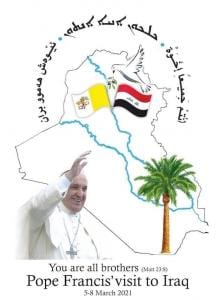 After fifteen months of no travel, Pope Francis made history by flying four and a half hours east from Rome to Baghdad, Iraq for the first Apostolic Journey to that country. Pope John Paul II had a great desire to visit Iraq in the year 2000, but due to security concerns, the trip never came to fruition. Today, Pope Francis landed in one of the best well known "peripheries" of the world to show us the face of Jesus amidst those who have been suffering tremendously. "I come as a pilgrim of peace," he said, "in the name of Christ, the Prince of Peace."
After a ceremonious welcome by the Prime Minister, Pope Francis addressed civil leaders in company of Iraq's president. A heartfelt gathering concluded the day where the Pope addressed clergy, seminarians, religious and catechists in the Our Lady of Salvation Syriac Catholic Cathedral of Baghdad. The location was chosen not only because it was a large space to gather, but because in 2010, ISIS jihadists attacked the church killing over fifty worshippers and security police. The gathering expressed the diversity of the Christian Church in Iraq, mostly composed of Syriac, Melkite, Chaldean and Roman Christians. The Patriarch of the Chaldean Catholic, Cardinal Louis Raphael Sako, has led the Chaldean church since 2013. He warmly welcomed Pope Francis. The fact that the head of the Iraqi Church has a vote in the election of a Pope speaks of the universality of Catholicism, and notes that the Iraqi Church is not some far away mission territory, but rather an essential part of who we are as Catholics.
I remember with great clarity the debates leading up to the 2003 invasion of Iraq by the US. Pope John Paul II voiced strong opposition to the invasion. I was studying at Franciscan University in Ohio where it appeared most students disagreed with the Pope's perception. Many formulated elaborate rationalizations to oppose the Pope's call for peace. Now almost twenty years later, we see what was a vibrant Christian community in Iraq decimated. Refugees fleeing Iraq since 2003 have been disproportionately Christian. The more recent incursions by ISIS in northern Iraq exterminated entire Christian villages and displaced hundreds of thousands. These ancient Christian communities that have existed since the early years of our Church are close to extinction.
Pope Francis has traveled to Iraq as a true pilgrim of peace to strengthen the faith of the Christians of a land that has suffered and continues to suffer. He brings a message of hope for a better tomorrow. I anxiously wait to hear the Pope's remarks tomorrow, and to see the images of his journey.
We pray for you Pope Francis. May your presence remind these Christians that they are not alone!