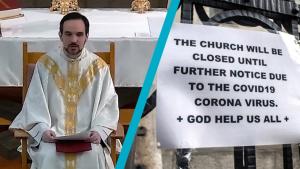 Father Sergio Muñoz Fita, a priest currently serving at Saint Anne Parish in Gilbert, Arizona has issued a public apology in his name and in the name of the Church for having denied the Eucharist to God's people last year during the peak of the pandemic.  His words began with great sincerity, recognizing that when people see him, he represents the Church.
His two minute address however takes a turn that I find difficult to understand based on my own experience as a priest during the pandemic.  Father Sergio continues, "I want to ask your forgiveness this evening, and God's forgiveness in the name of the Church for my sins and hers.  I ask for forgiveness for having left you without the Eucharist for many weeks last year.  Many of you in the most difficult moments of the pandemic turned to your Father for bread and we gave you a stone.  We failed you by denying you the only food that could sustain your hope.  We abandoned you when we should have been closest to you.  For these, at this Holy Mass, I ask your forgiveness.  The worst thing is that I cannot assure you that such a thing will not happen again, because as far as I know, I have not heard anyone express regret for what happened.  What I can promise you is that I will never again be a part to something similar, and that if obedience places me in such a situation again, I will withdraw so as not to be a responsible and guilty party to something that even today weights on my conscience as the act of which I am most ashamed in my entire life."
Several thoughts emerged immediately into my mind as I heard the brief video.  Here they are in no particular order:
There are millions of faithful Catholics who live in areas of the world where there is no priest, so they are only able to receive the Eucharist occasionally.  Some parishes in Latin America and Africa have up to 45 mission stations!  The priest can only visit once or twice per year – the Eucharist is hardly ever celebrated.  Our inability at times not to provide the Eucharist to the faithful does not imply that we have abandoned the faithful.  It means that there are extraordinary circumstances that impede it… such as a pandemic, or a shortage of priests.
I cannot support the priest's anticipated disobedience to his bishop or superiors – it goes directly against the promises  we make as priests.  Anyone who applauds his sentiments goes against Catholic teaching: we are a hierarchical Church and union with our bishop represents our union with Christ.  I cannot understand how any faithful Catholic would applaud his sentiments.
Father states that we have given our people a stone during the pandemic.  What I saw during the pandemic were countless priests finding creative ways to minister to their people even though the Churches remained closed. I am truly heartbroken for the Catholics who did not experience this at their parishes.  Many priests courageously continued to serve their people: calling them on the phone, providing drive by confession, celebrating parking lot Masses, giving communion to those who asked for it, etc.  Perhaps the experience of Father Sergio at his diocese is vastly different from my experience in South Georgia.  My bishop lifted the dispensation from attending Mass last November, and we have been doing fine.
He assumes that only God's people were hurt by the closed Churches: we priests suffered too.  We suffered together – feeling our people's pain.  No priest wants to celebrate Sunday Mass in an empty Church: we have been ordained to serve the people of God.  Holy Week 2020 will always remain in my mind – it was painful for everyone.  Psalm 137 comes to mind: "For there our captors asked us for the words of a song; our tormentors for joy: 'Sing for us a song of Zion!'  But how could we sing a song of the Lord in a foreign land?"  How could we rejoice Easter morning with our whole hearts when our Churches were empty?
Father Sergio speaks from an experience of the Church where the faithful have access to the Eucharist very often, perhaps daily, when so many Catholics do not have that luxury.  I believe that the months without the Eucharist made us yearn even for it more, and to experience solidarity with our Catholic brothers and sisters who are unable to receive the Eucharist frequently.  This may be a more constructive way to guide instruct God's people.
It is important to note that historically, churches were closed during times of pandemic.  When I was a child in Peru, churches were closed in the mountains because of war.  This is not something new – just something that we have not experienced in our own generation.
As I read the comments from the faithful on the video, I am heartbroken that so many people have felt so desolate during the months of pandemic.  As priests, we are called to give hope to our people – for us together to process the pain and sorrow we have experienced.  Rather than adding wood to the fire, why not express tremendous gratitude that now we can gather at the altar for the Eucharist?
Please forgive me if you find my comments judgmental.  I recognize that I could be misreading some of the intentions behind the priest's words.
My prayer is that together as a Church, now more united than ever, we can move forward in joy that the pandemic is subsiding.  To unite at the Eucharist where we are made One by Jesus Himself.  We can all rejoice in that!