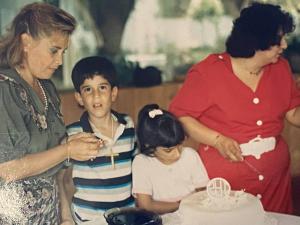 On a day like today, thirty years ago, my family boarded an American Airlines flight bound for Miami. As a nine-year-old boy, I could not grasp how significantly my life was irreversibly changing by the second as the plane flew farther away from Peru and closer to the United States.
On April 20, 1991, I made my First Communion with my classmates. We had a beautiful family gathering at our house that afternoon. I recall attending Mass the next morning at the old chapel of the Santa Rosa Hacienda down the road from my house. As usual, the priest asked during the offertory who would receive communion at Mass; for the first time I got to raise my hand as the Spanish missionary counted fifteen to twenty raised hands. I was proud of it. I had looked forward to that moment for such a long time – but I only got to do it once.
On April 26, 1991, my family underwent a trauma that millions of people experience. A trauma that lingers and lives with you forever; an experience so transformative that the rest of your life is determined and informed by it. We experienced an uprooting. We fled our homeland quietly and quickly because remaining in place meant harm or death for my family.
For thirty years, the United States has provided what my home country could not: safety. We locked our beautiful countryside house, and arrived to a small apartment in Augusta, Georgia. Despite the many difficulties faced, we felt safe. I have never taken this fact for granted.
About three years ago I became a citizen of the United States, adding a third passport to my collection of travel documents. Holding citizenship in three countries, a complex family lineage, and the experience of uprootedness, have made my life experiences quite different from most. I belong to many places, yet oftentimes feel I belong to none. I identify as a citizen of the world: I belong to the human race, and most importantly, I belong to God and his Kingdom. This way of thinking roots me, and in doing so, frees me.
When I respond to inquirers that I grew up in Augusta, Georgia, sometimes they will ask, "but where are you really from?" When I say I am from Peru, many times I have been told, "but you do not look Peruvian." I simply smile, and elaborate occasionally if I am in the mood. These questions require quite a bit of explaining that only a few are willing to listen.
Oftentimes, I consciously do not share with others where I am from. Why does it matter where I am from if I am here, speaking, sharing time with you now? Even when I gather with a group of immigrants from Latin America, I do not immediately share that I am from Peru: why does it matter unless there is a reason to share that piece of information? Liking me or disliking me should not matter based on where I am from: take me for who I am here and now. I understand some inquire out of curiosity or to make conversation, so asking is fine, but it does annoy me when a person's response is, "oh, I could hear an accent there." Must I always be a foreigner? To be a foreigner is subjective, nothing in you changes, only where you are standing on the Earth.
Thirty years ago we flew from Lima to Miami. The in-flight movie was the original Home Alone. Other passengers had no idea of the turmoil we were experiencing at that time. I give thanks to God that he brought us safely here, and that we were able to continue living our lives. Things in life are not a given, and I am grateful for the opportunities and experiences I have received.
Here is to 30 more!
Picture is mine, all rights reserved. April 20, 1991, my First Communion celebration in Peru days before leaving for the United States. My mother is dressed in red (at that time, the age I am now), my cousin Brenda stands next to me, my aunt Pelusa wears green. I still remember that cake, and so many details of the day. I even remember that shirt. I remember my mom was upset because after lunch I had gone down to the farm with my cousins and nobody could find me to cut the cake. We were living in fear at that time, but after that day, we could start seeing the light at the end of the tunnel. We would be leaving soon.