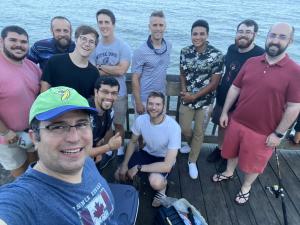 While in seminary in Rome, I would pass daily by the church where Saint Philip Neri is buried since it was on my way to the university. Most days I walked past Chiesa Nova, but when it rained, I looked at it through the window of the bus, and during the cooler months, I rode past it on my bicycle. In that very same Church five hundred years ago, the faithful gathered to hear Saint Philip preach. Known as the Patron Saint of Joy, the manner by which he earned this distinction is humorous in itself. To divert attention from himself, the Saint would tell off-colored jokes during his homilies, and was known to shave half of his beard when receiving dignitaries. He preferred to be judged as ridiculous rather than to be recognized for his outstanding virtue.
When I began my time as Diocesan Vocation Director, I received sound advice from a seasoned director, "when you visit a seminary, there must be men praying in the chapel and men laughing in the dining hall." The advice also included that when evaluating a prospective seminarian, it was good to assess his sense of humor. The best and most faithful priests always come with a keen sense of humor. The best laughs of my life happened during my time in the seminary. Saint Paul teaches that the presence of the Holy Spirit produces joy, along with many other virtues. Joy is a sure sign that the Spirit of God is at work.
Jesus told his disciples, "be of good cheer for I have overcome the world." The Christian life, with the sacrificial love and detachment which it demands, is ultimately a life of joy. It is a joy that springs from the depths of the soul that cannot be tempered by passing things. Christian joy is born in the knowledge that Jesus has conquered sin and death, and that He does not abandon us, especially in our time of struggle. Christian joy allows us to look to the future with great hope.
Saint Philip Neri noted that "a heart filled with joy is more easily made perfect than one that is sad." In God there is joy. It is not a coincidence that Biblical images of heaven usually include a wedding feast or some kind of great celebration. There is a story that Saint Dominic visited the newly established community of Dominican religious sisters in Rome, and found them somewhat gloomy. Dominic's solution was to give unrestricted access to the cellar filled with wine, and order the sisters to drink until they were joyful. Saint Dominic knew that a heart filled with joy is more easily made perfect than one that is sad. Perhaps Dominic read Psalm 104 to the sisters which blesses God, thanking Him for giving us wine to gladden people's hearts.
In the midst of turmoil and struggle, our faith invites to a profound joy. Jesus desires for us to lift up our hearts to Him to find solace and comfort. Christian joy is not mere romanticism or a fleeting sentiment that quickly withers, but rather it is founded upon the hope of Resurrection. Jesus invites us to echo the words of Psalm 43 in all of life's circumstances: "I will go to the altar of God, my joy, my delight."
Picture is mine, with Savannah Seminarians, 2021, Tybee Island, Georgia.