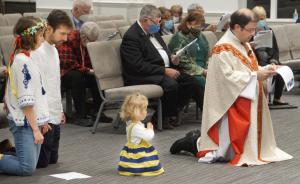 As the invasion of Ukraine continues, Pope Francis has asked that today be a special day of fasting and prayer for peace in Ukraine.  "I invite everyone to make March 2, Ash Wednesday, a day of fasting for peace," he said. "I encourage believers in a special way to devote themselves intensely to prayer and fasting on that day. May the Queen of Peace protect the world from the folly of war."
My Parish Christi in Pooler, Georgia, held a Mass and Holy Hour for peace in Ukraine last Monday evening.  About forty faithful gathered, including a young couple with their daughter; the wife is from Ukraine.
We unite in solidarity with the Ukrainian people who suffered tremendously throughout the twentieth century followed by the joy of thirty years of independence since 1991.  We remember the Paschal Mystery, the suffering, death and resurrection of Christ, which fills us with hope since it reminds us that after trials and suffering always comes joy.  May this current experience of war be an opportunity for the Ukrainian people to display heroic acts of perseverance, fill them with great hope for the future, and may God reward them for their faithfulness.
The picture above from the evening of prayer is precious.  God always listens to the prayers of children.  May the prayers of my young friend be lifted up to the ears of Almighty God!
Picture by Jonas Jordan