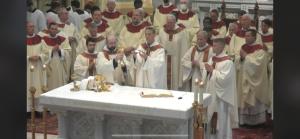 This morning at the Cathedral Basilica of Saint John the Baptist in Savannah, Georgia, Bishop Stephen D. Parkes ordained Father William Cook and Father Esteban Mallar to the Priesthood.
Bishop Parkes quoted the passage from the Gospel of Saint John, "it was not you who chose me, but I who chose you," and addressed the two ordinandi with the verse in mind, "today we celebrate as the family of the Diocese of Savannah your 'yes' and your choosing that God has invited you to be here at this time and in this place, to serve the people of God, to grow in faith, and to fall in love with the Church each and every day."  He further reminded the men, "God has chosen you for this.  God loves you so much that he has called you to be here today through different paths."
Father Esteban Mallar was born in Georgia, and Father William Cook in Oklahoma.  I was a brand new Vocation Director in 2014 when I assisted them in their discernment and eventual acceptance into Seminary.  I remembered Esteban since our mothers have been friends for about thirty years.  Will was the Confirmation teacher at the Cathedral where I lived.  It has been a privilege to walk with these two fine men through seven years of Seminary formation – a rare occurrence for Vocation Directors who are oftentimes reassigned after three to five years.
The Bishop stressed that Priests come from families where seeds are planted.  We do not come prepackaged with our vestments already placed on our shoulders.
He concluded the homily asking the faithful to pray for the newly ordained and for all priests, that all may have the strength to lay down their lives.  The Bishop reflected, "to lay down one's life involves full and true sacrifice.  Today in our world we do not always talk much about sacrifice because we are more concerned about comfort.  Sacrifice is not part of our everyday life, but for us as Christians these words of Christ in John's Gospel should resonate in our heart, mind and soul – for each one of us, but today in a special way for Will and Esteban.  To lay down one's life is to give all.  We do not partially lay down, but rather we give our whole self as God gives His whole self to us."
During an ordination, the ordinandi lay prostrate on the ground while the Litany of Saints is sung.  Perhaps one of the most powerful moments of the liturgy, the whole Church is united in prayer as the Saints are invoked and asked for assistance.  The Cathedral Basilica of Saint John the Baptist has a procession of Saints depicted along the nave.  The Saints are in procession to the altar as we are, all walking in the same direction toward the Sanctuary.  "Gentlemen, in a few moments you are going to lay down here on the floor of this temple, it will be a moment of your self-giving, asking for the intercession of all the Saints, as we hear their names, we remember them as citizens of heaven.  As we hear their names, I ask that you will remember and not be afraid to call out to these friends of ours in heaven, to watch over you, guide, guard and protect you in the gift of your Priesthood."
Father William Cook is assigned to Saint Anne in Columbus, Georgia, and Father Esteban Mallar to Saint Francis Xavier in Brunswick and its missions in Darien and Jekyll Island.
As a Diocese, we are grateful for the gift of our new Priests.  Pray, that God will continue to bless us with many more courageous men who respond to God's call to become workers in the vineyard.