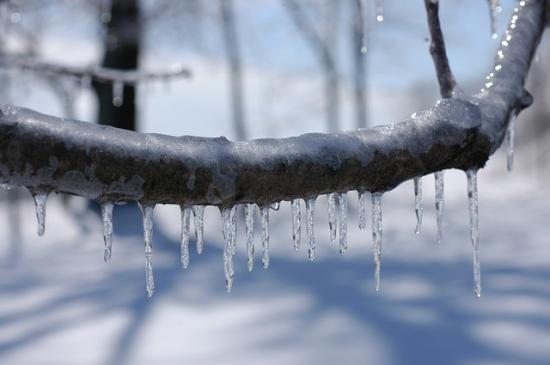 It's mid-April in Michigan and yesterday I had to drive through an ice storm.
This wasn't a few drops of sleet. It coated trees, left icicles hanging from branches and knocked down power lines. It wasn't a freak cold snap, either. Two weeks ago, I woke up and there was a fresh coat of snow on the ground. Aside from one or two brief flirtations with the sixties and sun, the weather since Thanksgiving has been gray and cold.
My half-joke this time of year is that I wake up every morning asking, "Why do I still live here?" Certainly a winter in Tennessee or a March in Hawaii would be much more enjoyable than walking outside to snow drifts in spring. While we have too much family rooted here to consider moving, it's still wearying to wake up in the morning, bundle up and endure the cold.
But the truth is, if you ask most Michiganders why they endure the state's winter, they'll ask you, "Have you seen our other months?"
In just a few short weeks (hopefully), the weather will catch up to the calendar and spring will arrive. We'll open our windows and let a soft breeze drift in, punctuated with the smell of lavender and grass from our yard. The magnolia tree in our front yard will wake up, displaying its pink and white buds, perfectly viewed from a solarium warmed by afternoon sun. We'll stretch our muscles and shake off the cabin fever by walking to the park, where we'll let our kids play on the swings and slides.
Summer will come after, dazzling our senses. The smell of barbecue will waft in from our backyard grill. We'll take to our state's pristine parks and beaches, letting the water cool us down after a day in the sun. I'll work up a sweat mowing our lawn and then cool down with an iced tea at our patio table. We'll take the kids for ice cream, cheer on Mickey as he plays T-ball and sit outside drinking wine on the back porch after the kids go to bed, crickets providing a romantic evening chorus.
After that will be the fall, when the state explodes into gorgeous reds and golds. We'll have bonfires in the backyard, consume donuts and cider, and pick apples from the orchard. We'll catch up on our final walks before winter rolls in, making those final trips to the zoos and state parks, catching up with my parents at their campground as sweatshirt weather rolls in.
I live in Michigan because I've experienced what these other months hold. I endure the winter because I remember spring.
If you guessed that there was a spiritual lesson to follow, you know me too well.
Not long ago, I endured one of the most prolonged and distressing winters of my soul. Disheartened by evangelical culture and its love of power and politics, cynicism crept back into my heart after a long dormant season. Depressed over the way Christians I knew and loved threw their support behind wicked men and turned blind eyes toward evil actions, I let bitterness and anger fill me. I wondered how much of what I believed was true. Could I trust a faith when the people I'd held up as spiritual leaders turned out to be advocates of the very things they preached against?
I looked around at the fruit of American evangelicalism. Racism. Homophobia. Adultery. Power. Greed. Callousness. Among the most prominent people who called themselves Christians, I couldn't see spiritual fruit. Was this the end result of faith? Was what I believed just as sham?
It was a dark year or two. I didn't read my Bible. I barely prayed. I couldn't in good faith join any ministries at church because I didn't trust the state of my soul. I wanted to leave God.
But I didn't. I remembered what happens in the light of the Son. I remembered the church that fed the homeless and confronted injustice. The faithful who provided hope to dying families, the prayers that surrounded cancer patients. The tug of my heart when my son and daughter were laid in my arms, the "at just the right time" miraculous gifts of money and job offers that kept me out of debt and destitution. The ancient words of Scripture that proved an anchor for my soul. The inexplicable peace I've felt in dark moments because I know I'm held secure in a larger plan than I could ever dream of.
So, I didn't run. While cultural Christianity failed, I clung to the cross, to the Word of God, and the hope of the Spirit. When my spiritual leaders have fallen, I've found great comfort and hope in showing up on Sundays to my local church. As our family endures some of our hardest trials, I've been buoyed by the example of my grandparents and the joy of the Lord that has fueled their lives and created an amazing spiritual legacy. I endure the dark moments because I know what happens in the light. The winter of my soul was bearable only because I remembered what spring looks like when my hope is in Christ.
And slowly, the change came. My heart warmed and my spirit was encouraged. No big epiphanies or earth-shattering moments occurred (I wouldn't trust them anyway). But as I studied the Word in the morning, as I prayed in the car on the way to work, as I sang alongside fellow worshipers at church, I woke up. I felt a familiar joy and warmth return. My cold winter heart began to blossom, thawed by the love of the Son.
I endure the winter because I remember the spring. And when the dark nights occur again, I will remember that I have basked in the sun before and will do it again.