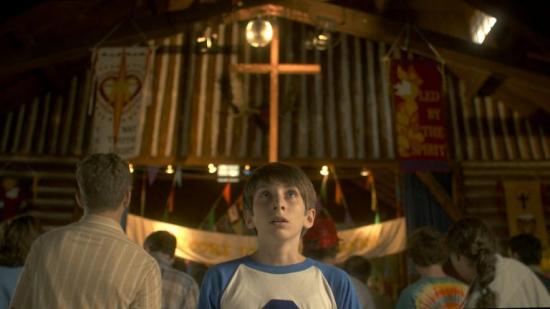 About five minutes into "Camp Manna," it's clear that the filmmakers are in on the joke.
The film, available on digital platforms June 5, follows a young boy, Ian (Luke Klein), during a summer at a Christian camp. Ian has gone to live with his pious aunt and uncle following a family tragedy, and he's in no mood for a summer of Bible drills and the ultra-competitive "God Games," lorded over by the unstable camp director Jack "Cujo" Parrish (Gary Busey). His cohorts are suspicious of the new, unbelieving camper and his counselors have identified Ian as another notch on their conversion records.
Given the niche setting and the presence of Christian film veteran Busey, it's easy to assume "Camp Manna" will be a parable where Luke bonds with his fellow Christian campers, embrace their beliefs and have a change of heart. But "Camp Manna" isn't interested in preaching. The moment Sonseed kicks in on the soundtrack, it's apparent that filmmakers are aware of the stranger sides of Christian culture.
But "Camp Manna" isn't a "Jesus Camp"-esque kick in the ribs. Cowriters/codirectors Eric Scott Johnson and Eric Machiela* grew up enmeshed in evangelism, and the film is affectionate and playful instead of cynical.
"That was, more than anything, so much of the motivation for this, sort of the world of Christian culture that we've been raised in. Not just me and music, but if you've been kind of deep in that culture, all the movies and that sort of stuff, and having this desire to make something in reaction to that was a big part of it," said Johnson. "[Machiela and I] had been on a trajectory of being filmmakers and wanted to tell stories in that medium, but you can't escape what you know. I think it was really cathartic to sort of explore that culture in film."
Packing for church camp
Johnson and Machiela, natives of Grand Rapids, Michigan, have been co-producing short films and commercials since 2005. Almost immediately, the two, who both grew up in Christian circles, knew that their upbringing could be fodder for something unique.
"We got started and were throwing out ideas and the one thing we had in common was this Christian background," said Machiela. "We started making each other laugh at references and jokes to the Christian subculture. It was just a no-brainer that we wanted to explore."
One of those shared experiences was Christian summer camp, which often combined traditional camp experiences like Capture the Flag and talent shows with biblical themes, leading to surreal results.
For Johnson, this involved a Christian summer camp where boys called their counselors "uncle." For Machiela, he remembered mud runs where students had to make the crawl with a backpack of Bibles on their back. This particular activity made it into the film, and the filmmakers are willing to bet audiences will walk away recalling their own bizarre camp memories. [Chris' note: When I attended Christian camp, we played hide and seek in the woods, but the twist was that we were Chinese Christians being pursued by the Chinese government as we ran to secret churches. It was only years later that this might be, as the kids say, problematic.]
"This is what the film kind of does. It brings back these memories that people have had for 20 years and for some people, they're kind of like having a PTSD kind of moment, or some people start laughing and are like, 'I haven't thought of that in 20 years,'" said Machiela.
Bringing Camp Manna to life
"Camp Manna" was shot at two YMCA camps in northern Michigan. Although the state has a number of Christian camps, they preferred not to participate in the filming upon reading the irreverent script.
"The one thing we found out quickly was that camps associated with faith and Christian camps were just not interested in this movie," said Machiela. "I think they have too much a donor base and parents to worry about, so they decided not to get involved. So we ended up going with a secular camp, which of course, if you're from Christian culture, is the worst thing in the world."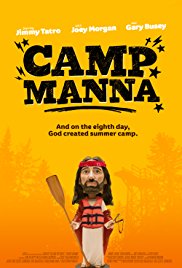 "Camp Manna" straddles the line between evangelical satire and nostalgia. This isn't "God's Not Dead Goes to Camp." Machiela and Johnson cite "Meatballs," "The Sandlot" and "Heavyweights" as the film's touchstones, and there are a few subtle (and not-so-subtle) double entendres, irreverent gags (a sign saying "Don't let fear kill you — let Jesus help"), and even (gasp!) a cuss word or two. But the film isn't mean-spirited, and the filmmakers worked to temper their amusement with a genuine love and respect for the faith and believers .
"'Saved' was an important film for us," said Machiela, referencing the 2004 Mandy Moore film that satirized Christian schools. "There's stuff in there that made laugh so hard because it just said that there was someone else out there who'd experienced this and thinks it's hilarious."
As faith-based films like "I Can Only Imagine" bring in huge money at the box office, it might be easy to assume that the filmmakers were tempted to cut out some of the risque gags and toss in an altar call finale. Johnson and Machiela, however, said they never considered those changes, as they had a different audience in mind. However, their desire to tell an enjoyable, funny story caused them to work behind the camera with gentle hands.
"The script was a bit more satirical than the film that came across on screen. It worked really well in script form, but as we were putting the film together and editing the film, we were with people who knew us and knew our heart and our intent, which allowed us to make a little bit more on-the-nose jokes," said Machiela. "But we're also trying to ride that line where it is pushing the envelope and giving people a sort of catharsis and ability to laugh; we don't want anyone to feel threatened by this. "
Key to that edgy but all-in-good-fun spirit was casting. While the majority of the campers are virtual unknowns, save for "Scouts Guide to the Zombie Apocalypse's" Joey Morgan as Gordo,the actors portraying the heads of Camp Manna had to deftly navigate the heart and humor. As Bradley, a camp counselor who comes off as a sort of proto-Ned Flanders, Evan Koons throws himself into the antics, overly sincere and eager to read the Bible to his campers — he's particularly into genealogies. But in addition to comedic energy, Koons also brings his own faith background. The actor made his bones in Christian culture-tweaking sketches on Youtube, including the viral hit "Church Appropriate Dance Moves," which he updated to promote the film.
Johnson and Machiela said Koons' familiarity with Christian culture was essential to nailing the film's tone.
"I think you needed someone who came in with a faith background. We had other comedians come in and read, and they were funny, but if you don't have that background, it's just a caricature, not a real person," said Johnson. "We started filming on a Monday and the cast didn't arrive until Sunday night. The first scene we filmed was the 'sweatbox' scene and Evan just started improvising about Revelation, Song of Solomon and genealogies. As soon as we cut, everyone started cracking up."
Another key cast addition was Jimmy Tatro, best known for YouTube videos and a small role in "22 Jump Street" when he was cast as cool camp counselor Clayton (who has a tattoo for every soul he converts). After casting, however, Tatro starred in the acclaimed Netflix series "American Vandal." As Clayton, he plays a douchebag masking some deeper isolation issues, making the character a jerk, but one with a dash of sadness.
But the marquee name,was "Lethal Weapon" star and reality television mainstay Gary Busey as the PTSD-addled, holy rockin' camp director Cujo. Johnson and Machiela knew that they wanted a heavyweight for the role, and originally wrote it for Chuck Norris. However, the Bearded One's asking price was too steep, and a production partner suggested Busey, known for his unpredictable behavior, but also his sincere spiritual beliefs. The role was rewritten, and the directors acknowledge that much of Busey's dialogue was improvised.
"He was great. He'd talk to us every day and he really was excited about doing a movie where he could talk about his faith," said Johnson. "He's so intense about his faith. He really was excited about doing this and wanted to do a good job, and I think it's one of the best performances he's given in a long time."
Also key to making the humor land was a sharp visual eye. The film recaptures the look and feel of '80s camp films, with a ragtag, awkward group of campers reminiscent of "The Sandlot" and a pie-eating contest that's basically "Stand By Me" by way of "The Last Supper." There's also a commitment to sight gags that call to mind "Wet Hot American Summer" and "The Simpsons." Eagle-eyed viewers, particularly those who grew up in Christian circles, will get a kick out of a Jesus-themed putt-putt course (hit it through the holes in his hands!), the way evangelism is shoe-horned into a talent show skit about weight-lifting, or the assortment of Jesus Junk cluttering cabins and car dashboards. It's often laugh-out-loud funny, but specific enough that it could only come from someone familiar with the culture.
"We always said as we were building the film that we thought the art direction was a sixth man, another character," said Machiela. "Painting a picture of that world was so essential to letting you know that we knew the code. We're not outsiders; we're acutely aware of it and are coming to it from a first-person perspective."
Reaching happy campers
The film screened at the conclusion of the 2016 Art Prize competition in Grand Rapids and is now almost ready for wider audiences. Johnson is well-aware that it's a unique sell, and says early audiences have responded positively once they understand the filmmakers are wringing laughs from something they love.
"You can feel it. The first five minutes, people are sort of like, 'What is this?' Where is this going? Am I about to be attacked for my faith?' And when you leave the first act, I think people realize the heart and the intention of this and they start to relax, laugh and enjoy themselves," he said. "I feel like the ending works really well in that it's satisfying. It's not redemptive in the way that a faith-based film is redemptive, but it's still a very hopeful story at the end of the day."
And while it might seem like "Camp Manna" is a skewering of religious culture being released at a time when evangelicals wield political power and court controversy, the filmmakers believe there's an audience ready to laugh in recognition, and reference the popular satirical site The Babylon Bee and the podcast "Good Christian Fun" as proof.
"For us, the catharsis we felt in writing the film and the solidarity with each other in writing it, we felt, 'I think this was for more than us,'" said Johnson. "We think there's a lot of people out there that are trying to figure out how to laugh at something and be vulnerable with it but also love it at the same time. To this point, there's been a fair amount of [other films] that get fairly cynical and are sort of outside looking in, and I think we were inspired to make something that was a little bit more on the inside looking out, to look around and chuckle with each other and say, 'Hey, this is weird and this is funny and we created a lot of stuff that is hilarious. But also, there's good in here the same time, there's something meaningful.'
"I'm excited about the film doing well, but even more about the conversation. I want to see if there's an audience for this. If there is, we have more stories we want to tell in this sort of world."
"Camp Manna" is available for pre-order on iTunes and will be available on iTunes and other digital platforms June 5. For updates, follow Camp Manna on Facebook, Twitter and Instagram. I will have a review closer to release.
* I recorded this conversation on my phone and, upon transcribing, I may have mixed up Johnson and Machiela in a few spots. If so, I apologize. Also, apologies to Evan Koons, who was also in our interviews but whose responses ended up being trimmed in editing. However, when I mentioned I liked the holes in the hands putt-putt course, he did inform me I was going to hell.