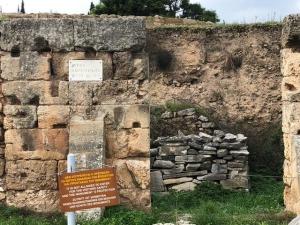 Scripture:        Daniel, chapters 9-10; Psalm 123; Luke, chapter 5
Daniel 9:1-6, 15-19  (NASB): 
In the first year of Darius the son of Ahasuerus, of Median descent, who was made king over the kingdom of the Chaldeans – in the first year of his reign, I, Daniel, observed in the books the number of the years which was revealed as the word of the Lord to Jeremiah the prophet for the completion of the desolations of Jerusalem, namely, seventy years. So I gave my attention to the Lord God, to seek Him by prayer and pleading, with fasting, sackcloth, and ashes. I prayed to the Lord my God and confessed, and said, "Oh, Lord, the great and awesome God, who keeps His covenant and faithfulness for those who love Him and keep His commandments, we have sinned, we have done wrong, and acted wickedly and rebelled, even turning aside from Your commandments and ordinances. Moreover, we have not listened to Your servants the prophets, who spoke in Your name to our kings, our leaders, our fathers, and all the people of the land…
And now, Lord, our God, You who brought Your people out of the land of Egypt with a mighty hand and made a name for yourself, as it is this day – we have sinned, we have been wicked. Lord, in accordance with all Your righteous acts, now let Your anger and Your wrath turn away from Your city Jerusalem, Your holy mountain; for because of our sins and the wrongdoing of our fathers, Jerusalem and Your people have become an object of taunting to all those around us.
So now, our God, listen to the prayer of Your servant and to his please, and for Your sake, Lord, let Your face shine on Your desolate sanctuary. My God, incline Your ear and hear! Open Your eyes and see our desolations and the city which is called by Your name; for we are not presenting our pleas before You based on any merits of our own, but based on Your great compassion. Lord, hear! Lord, forgive! Lord, listen and take action! For Your own sake, my God, do not delay, because Your city and Your people are called by Your name."
Observations:
Daniel is one of the most righteous and faithful figures in the Old Testament. The book of Daniel demonstrates Daniel's refusal to disobey God, no matter what the consequences. He speaks truth to Nebuchadnezzar, even when the message is sharp (chapter 4). He continues to pray to God in spite of Darius' command, even under the threat of the lions' den (chapter 6). He and his friends refuse to eat the rich food of the king's table, choosing to honor God's way (chapter 1). His friends follow Daniel's example; they refuse to bow to Nebuchadnezzar's idol, even under the threat of being thrown into the fiery furnace (chapter 3). Daniel announces God's judgment on Belshazzar in the midst of a drunken party (chapter 5). Everyone recognized God's Spirit in Daniel – from Nebuchadnezzar to the kings of the Medes and Persians.
Yet in our passage for today, righteous Daniel prays a prayer of repentance.  He sought God by prayer and pleading, with fasting, sackcloth, and ashes. Those were the symbols of repentance and remorse.  But why is Daniel repenting?  Surely "righteous Daniel" hasn't disobeyed God! He has always been faithful and obedient.
Listen again to the words of Daniel's prayer.  We have sinned, we have done wrong, and acted wickedly and rebelled. We turned aside from Your commandments and ordinances. We have not listened to Your servants the prophets.  This illustrates an important principle: collective responsibility.  We tend to think of sin only in individual terms: I disobeyed God; I failed to do what God commanded.  That's where repentance starts, but that's not where it ends.
Collective responsibility:
From the time of God's deliverance of the people of Israel, He expected them to be responsible for one another. When a person disobeyed, it was not "just" that person's sin; there was "sin in the camp." For God to dwell among His people, they needed to be righteous and devoted to Him. Individuals may have led the people into sin, but they followed – and they were all responsible. When Achan kept some of the forbidden plunder from the capture of Jericho, the whole nation suffered defeat. When Joshua prayed, God said, "Israel has sinned" (Joshua 7:10). When the kings led the people into idolatry, the whole nation suffered.
Daniel understood this, so he prayed on behalf of his people – but he didn't overlook his own responsibility. I prayed to the Lord and confessed.  In the next part of chapter 9, he goes further: "While I was still speaking and praying, and confessing my sin and the sin of my people Israel…" (9:20). I don't know what Daniel's confessed as "his" sin, but he recognized his need for God's forgiveness and mercy.
As David states in Psalm 51, "The sacrifices of God are a broken spirit; a broken and contrite heart, God, You will not despise" (Psalm 51:17). Jesus taught us to pray, "Forgive us our debts (or trespasses), as we also have forgiven our debtors (or those who trespass against us)" (Matthew 6:12). Without getting into theological discussion of "sins" and "trespasses" and "debts," the point is that we need to acknowledge our daily need for God's mercy, forgiveness, and grace.  Daniel does that in our passage for today – and he starts with himself.
Application:
To paraphrase C.S. Lewis, the closer we get to Jesus, the more we realize how far we still have to go. The closer we are to God, the more His light shows our shortcomings and fallibility.  That doesn't mean that we are to think that we're worthless; it just reminds us to be spiritually humble. "Do justice, love mercy, and walk humbly with your God" (Micah 6:8). We should rejoice at how far God has brought us, but we should never be deceived into thinking that we have "arrived."
But this focus on humility before God should also impact our thoughts about the groups of which we are part. It is a small, but dangerous, step to go from "God has blessed us" to "we deserve God's blessing." While I doubt that any disciple of Jesus would say that we "deserve" God's blessing, it is very easy for us to start acting that way. Spiritual pride is very deceptive, and for that reason it is very dangerous. The antidote? A daily practice of humility, repentance, and confession. That sounds a lot like the way Jesus taught us to pray!
Prayer:
Our Father in heaven, Your name is holy.  You are great and awesome; You deserve all glory and praise. May Your Kingdom come in increasing measure today, in my life and in our world.  Help me to do Your will today, that others may recognize Your goodness and mercy. Give me today the things that I need for life and obedience. Thank You for the ways You have provided for my physical needs. Thank You for the gift of Your Holy Spirit, who cleanses me and empowers me to live according to Your will. Forgive me for my failure to perfectly follow the example of Jesus.  Help me to extend to others the same grace and mercy that You have extended to me. Guide me in Your way; protect me from the enemy's schemes. May the words of my mouth and the meditations of my heart be pleasing to You, O God, today and every day.  Amen.