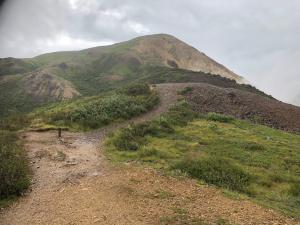 Scripture:        Ezekiel, chapters 47-48; Luke, chapter 2
Luke 2:8-11 (NASB) – In the same region there were some shepherds staying out in the fields and keeping watch over their flock at night. And an angel of the Lord suddenly stood near them, and the glory of the Lord shone around them; and they were terribly frightened. And so the angel said to them, "Do not be afraid; for behold, I bring you good news of great joy which shall be for all the people; for today in the city of David there has been born for you a Savior, who is Christ the Lord."
Observations: It seems odd to read a "Christmas" passage in September!  Each year, this passage comes up in the reading schedule just as we're transitioning from summer to fall.  It's the second time we read it each year; the first time is at the beginning of the year.  I think it's important for us to read passages like this at times other than Advent/Christmas, just as it's important to read resurrection passages at times other than Easter.  These passages are at the heart of our Christian faith. We shouldn't just put them away and bring them out for "special occasions."
I think that's part of the reason that God has directed me toward this passage today.  We all know the story. The shepherds are in the fields outside Bethlehem, tending the flocks.  Most of "refined society" viewed shepherds as dirty and undesirable – a necessary evil, so to speak. But God chooses to make the first announcement of the birth of God-with-us-Emmanuel to a group of shepherds! This reminds us that there is no partiality with God" (Romans 2:11).
God's favor was not limited to the angel's announcement. The heart of the angel's message demonstrates God's love for everyone.  "I bring you good news of great joy which shall be for all the people."  The good news was not limited to the rich, the powerful, or the religious; it was for everyone.  Obviously, it was good news, because we have a Savior.
Deep down, in our most honest moments, we all recognize that we are flawed. We need something – Someone – to help us, to make sense of it all. We may fight against that thought, but that brings to mind Shakespeare's line, "methinks the lady doth protest too much" (from Hamlet).  The more we argue that we don't need help, the more evident it becomes that we do.
People in Jesus' day understood that; they had been waiting for their Deliverer to come.  The problem was that they were looking for the wrong kind of deliverer.  They wanted a military or political leader to swoop in and "fix" their nation.  (Sound familiar?) That's not what they really needed. They needed a Savior – someone to satisfy the penalty that their sins deserved. Someone to restore them to the relationship with God that they were created to have. Good news!  He's here!
Application:  I fear that we forget that there is only one Savior.  Salvation does not come through an election, a government program, or new legislation.  It certainly doesn't come through a revolution or military coup!  Specifically, when I say "we," I mean the church – those who call themselves by the name of Jesus. He is our Savior, and He has already done everything that needs to be done to save us from our sins.
God's purposes move forward on God's timetable.  He calls us to participate in His work each day, by doing the things that He puts in front of us. There are many things about God's purposes and his timetable that we don't understand.  That's not an accident. We're on a need-to-know basis, and we don't. So why do we spend so much time and energy trying to figure it out?  Why do we get so caught up in things that are not part of God's plan for us?
Because we forget the good news of great joy for all the people.  We have a Savior – Jesus, the Christ!
Prayer:   Father, thank you for reminding us today what is really important.  We have a Savior!  By placing our faith in Him, we have been restored to relationship with You.  Your word teaches us all of the things that You have provided for us through Jesus.  We have new life in Christ. We are new creations. Our sins have been pardoned. You have redeemed us and cleansed us. You empower us for life and good works for Your glory.  You have given us a great High Priest, seated at Your right hand, who understands us and intercedes for us. You have given us Your Holy Spirit to live in us.  The Spirit cleanses us, empowers us, and leads us in the truth.  What more could we possibly need?
Help us today to focus our attention on Jesus – to "fix our eyes" on Him. Help us to trust You with our future. Help us to trust that You are at work in our world, even when we think it's a mess. Bless us today with some reminder of Your faithfulness, that we might trust more fully in You. Amen.