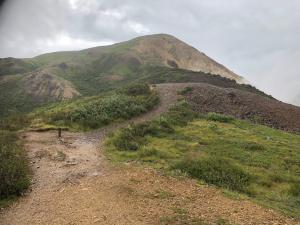 Scripture:        Romans, chapters 5-8
Romans 6:1-7 (NASB):
What shall we say then? Are we to continue in sin so that grace may increase? Far from it! How shall we who died to sin still live in it?  Or do you not know that all of us who have been baptized into Christ Jesus have been baptized into His death?
Therefore we have been buried with Him through baptism into death, so that, just as Christ was raised from the dead through the glory of the Father, so we too may walk in newness of life. For if we have become united with Him in the likeness of His death, certainly we shall also be in the likeness of His resurrection, knowing this, that our old self was crucified with Him, in order that our body of sin might be done away with, so that we would no longer be slaves to sin; for the one who has died is freed from sin.
Observations:
Far from it! Paul uses this phrase in an emphatic response to the idea that those who have been justified would continue in sin. How shall we who died to sin still live in it?
Different "streams" of Christianity have debated this question for centuries. On the one hand, Jesus taught us to pray each day that God would forgive our "trespasses." This implies that we need to ask forgiveness regularly. On the other hand, we have passage like this one, which clearly state that Christians are to no longer live in sin.
I would suggest that we can find "middle ground" in our understanding of "sin." If we define "sin" as any shortcoming, any failure to comply with God's perfect standard of holiness, then we clearly need God's forgiveness and grace each day. However, if we define "sin" as "willful disobedience of a known command of God," then we understand why Scripture tells us that those who died to sin should no longer still live in it.
Why would we want to?
God went to such great lengths to forgive us; why wouldn't He also transform us? Would Paul talk about "transformation" if God doesn't truly change us? Consider these statements:
"Therefore sin is not to reign in your mortal body so that you obey its lists, and do not go on presenting the parts of your body to sin as instruments of unrighteousness" (6:12-13a)
"For sin shall not be master over you, for you are not under the Law but under grace" (6:14).
"Are we to sin because we are not under the Law but under grace? Far from it!" (6:15)
"After being freed from sin, you became slaves to righteousness" (6:18)
"For the law of the Spirit of life in Christ Jesus has set you free from the law of sin and of death" (8:2)
We have been transformed and set free; let's live above sin – far from it!
Application:
Yesterday, I reflected on the good news that Jesus came to announce. That good news is always important, but it is especially on our minds during Advent. It's good news because Jesus came to "save His people from their sins" (Matthew 1:21, NASB). That "saving" is not just a "get out of jail free" card; it is a new life! And that new life should be far from the old life of sin and death!
Prayer:
Father, thank You for the new life that we have in Jesus. Thank You for providing a salvation that not only pardons us, but also transforms us. Help us to reflect that new life by staying away from sin – far from it! Bless us today as we walk in Your way.  Amen.