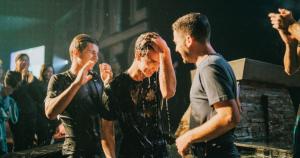 Dying and rising with Jesus is one of the main ways that the New Testament talks about our growth in godliness (i.e., our "sanctification"). It may sound strange at first, but we escape our slavery to sin by first participating in Jesus' death, and then by being raised with him to new Spirit-filled life.
It is for this reason that G.K. Beale, speaking at a recent gospel coalition conference, could say that minimizing the resurrection "unintentionally eviscerates the ethical power of church preaching and teaching." The power to live a God-honoring, spirit-filled life comes when we receive genuine new life through our participation in the historical resurrection of Jesus.
I believe understanding this reality better will help the church fill in what I've called the "resurrection-shaped hole at the heart of evangelical theology." So let's consider each aspect of this idea in turn.
Dying with Jesus
The first seemingly strange truth we must consider is the idea that we've died with Jesus. We often think of Jesus' death as a substitution. In other words, we affirm that Jesus died in our place. And while that's undoubtedly biblical, it's also striking how frequently the New Testament speaks of our participation in Jesus' death.
Consider the following verses.
"We were buried therefore with him by baptism into death." (Romans 6:4)
"We know that our old self was crucified with him." (Romans 6:6)
"Now if we have died with Christ…" (Romans 6:8)
"I have been crucified with Christ. It is no longer I who live…" (Galatians 2:20)
"Those who belong to Jesus have crucified the flesh." (Galatians 5:24)
"One has died for all, therefore all have died." (2 Corinthians 5:14)
There are other examples, but I'll stop there. I believe these suffice to demonstrate that it's biblical to think about our old self having died with Jesus on the cross. Through our union with him, we participate in his death.
And crucially, it's worth pointing out that our dying with Jesus is almost always associated in the New Testament with our turning away from sin. In Romans 6, for example, Paul is heading off the idea that we should "continue in sin so that grace may abound." He repeatedly affirms our participation in Jesus' death in order to demonstrate that our sinful self must be a thing of the past. Indeed, he writes in verse 2, "how can we who died to sin still live in it?"
And you can find Paul making virtually the same argument in Galatians 5 and Colossians 3.
Rising with Jesus
Of course, dying with Jesus is only half of the story. The New Testament also repeatedly affirms that we've been raised with him. This comes through most clearly in Colossians 3:1. "If then you have been raised with Christ…" We therefore participate not only in Jesus' death, but we also join him in his resurrection.
And the end goal of this is, once again, our sanctification. It's our turning away from sin and our living out of a new godly life. For example, Colossians 3 goes on to say that we have "put off the old self with its practices and have put on the new self, which is being renewed in knowledge after the image of its creator." And, in typical Pauline fashion, the passage rattles off a laundry list of sinful practices that characterize the old self, and a parallel list of godly attributes that characterize the new.
It's therefore possible to say that the power that animates our godly living comes from the historical reality of Jesus' death and resurrection. Scripture affirms that, in a very real sense, our old self has died with him, and we are being raised to life as a new self, remade after the image of its creator.
But to understand this reality fully, we need to bring the Holy Spirit into the equation.
The Holy Spirit and Resurrection
As we mentioned in last week's article on resurrection and justification, it seems to be the case that the Holy Spirit is the person of the godhead that is the agent of resurrection. Indeed, in both biblical Hebrew and Greek, the word for spirit is actually the word for breath. And the breath of God has always been life-giving. After all, God breathed the breath of life into Adam, and he resurrects the dry bones by his breath in Ezekiel 37.
It's therefore only natural that the spirit, or breath, of God would be responsible for the resurrection of his people. And we see this play out in the New Testament. Indeed, in Romans 8, Paul refers to the Holy Spirit as the "spirit of life" through which God will "give life to our mortal bodies."
And while Paul no-doubt has our future physical resurrection in view, he also clearly views the spirit as already dwelling within us, and already giving us life (verses 9-10). And the natural out-working of that is that we "walk not according to the flesh but according to the spirit" (verse 4). While our old fleshly selves were incapable of pleasing God (verse 8), our new selves, having been given new life by the Spirit, are capable of faithfulness!
Paul says much the same thing in Galatians 5. "Those who belong to Christ Jesus have crucified the flesh with its passions and desires" and they now "live by the Spirit" (verse 24-25). In other words, our old selves have participated in Jesus' death and our new selves have been given new resurrection life by the Holy Spirit. And the result of all that is, famously, that we should exhibit the Fruit of the Spirit!
In Paul's theology, therefore, there is a strong association between resurrection and the role of the Holy Spirit in helping us live godly lives.
Awaiting Full Resurrection
But, while Paul can speak of our dying and rising "with Jesus" as something that has already happened because of our oneness with him, he's no stranger to the reality that this process is not yet complete. He regularly addresses problems of sin among his Christian readers, and in one case he goes so far as to say they're actually worse than pagans (1 Corinthians 5).
Thus, as we already pointed out in Romans 8, resurrection language in Paul often blurs the lines between present and future. In that passage, for example, Paul asserts that the Spirit of Life already dwells in us, and yet still looks forward in hope to a future physical resurrection which will be the "redemption of our bodies."
Colossians 3 is similar. Paul says in verse 1 that we've already been "raised [past tense] with Christ." But then, only 3 verses later, he says "when Christ who is your life appears, then you also will appear with him in glory [future tense]."
Resurrection, as the transformation of our old fleshly self into a new spiritual (i.e., Spirit-filled) self is thus a process that has already begun and also one that is not complete. We are new creations now. We've died and been resurrected with Christ already. We have the power to live a Spirit-filled life that exhibits Spiritual fruit now. And yet we also eagerly await the day when we will be fully transformed and sin and death will be no more.
Conclusion
Dying and rising with Jesus is thus, as we said in the beginning, the dominant way that the New Testament speaks about our sanctification. Our fleshly self with its sinful practices dies with Jesus, and we are raised to walk in newness of life by the power of the Holy Spirit. And, with G.K. Beale (who we quoted earlier), I'd encourage you to think of this as more than a metaphor. I believe it's the lived reality of so many who have given their lives to Jesus and experienced the transformative work of the Holy Spirit. This is how we become like Christ.
(Note: I am heavily indebted to N.T. Wright for many of the ideas in today's post. If you'd like to understand the resurrection better, I recommend his The Resurrection of the Son of God. It's quite an undertaking to read, but the payoff is worth it.)
Questions or comments about resurrection and sanctification? Please reach out below. You can also follow me on Twitter if you'd like to get reminded when I post something new.
Image Credit: Vince Fleming / Unsplash