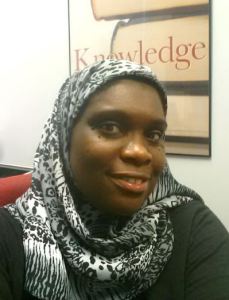 Layla Abdullah-Poulos has a B.A. in Historical Studies and Literature, M.A. in Liberal Studies, and an AC in Women and Gender Studies.  She presently teaches history as an adjunct instructor and writing skills as a learning coach. Abdullah-Poulos also serves as a workshop facilitator and speaker on racism, gender oppression, and identity. She frequently teaches workshops at institutions of higher education as well as national organizations. Abdullah-Poulos speaks at numerous venues and on panels.
The knowledge she acquired in both her undergraduate and present graduate studies afforded Abdullah-Poulos numerous opportunities to present her research at numerous academic and professional conferences, including, the Milton Plesur Graduate History Conference and  PCA/ACA National Conferences.
Abdullah-Poulos' current research focuses on the emerging Islamic-American hybrid culture and endeavors to shed a critical cultural lens on native-born African-American, Euro-American, and Latino-American Muslim identities.  Her master's final project explored the diverse works of Native-born American (NbA) Muslim authors as cultural artifacts and utilized them as signifying representations of the divergent NbA Muslim culture in American society. Abdullah-Poulos extended her master's work to launch the NbA Muslims blog on the Patheos Muslim Channel. She continues to shed a cultural lens on the experiences, challenges, and triumphs of the unique Muslim American demographic.
Abdullah-Poulos is a US correspondent for the online publication About Islam and novel content editor.
Abdullah-Poulos received the Edwin and Ruth Decker Scholarship for Academic Excellence in 2008. In 2014, she was awarded the Empire State College Student Service award as well as the Foner Fellowship in Work, Culture, and Social Change. Abdullah-Poulos is also a multi-year recipient of the UUP Joint Labor Management Individual Development Award. She also received the Leadership Council on Inclusion Multicultural Award, SUNY Empire State College Dean's Medal, and the SUNY Chancellor's Award for Academic Excellence.
Contact
Email: layla.poulos@nbamuslims.com
[contact-form][contact-field label='Name' type='name' required='1'/][contact-field label='Email' type='email' required='1'/][contact-field label='Comment' type='textarea' required='1'/][/contact-form]