"I have always believed in the need to acknowledge life's darkness in order to fully experience love-magic. This has never been so clear to me as now, after the birth of my baby girl." -Francesca Lia Block in Guarding the Moon
Recently on the Pagan Families Facebook page there's been a lot of talk of miscarriage, stillbirth, and other often deeply challenging and painful experiences related to pregnancy and loss.
It seems that one of the hardest things about experiencing such a painful loss can be a sense of having to go through it alone. Meadowlark told me, "I would have liked to have other pagans who have had similar experiences as me for guidance and support."
With the stigma attached to talking about these experiences and the way so many Pagans are geographically isolated from each other, it can be impossible to find the many other people out there who can sympathize with what you're going through.
What are we talking about here? There are many different types of pregnancy loss. Briefly, miscarriage is the spontaneous ending of a pregnancy at a stage when the fetus could not live outside the mother. In a stillbirth, a fetus has died in the uterus, generally at the end of a full pregnancy. However, the individual emotional and spiritual experience of pregnancy loss may not fit medical categories very well, as Molly Remer illustrates in her post about how miscarriage can be experienced as a birth event.
There's more. I've also been hearing about histories of abuse, regretted tubal ligations, and coerced abortions. I don't have many answers. I thinks it's helpful to keep talking, to keep reaching out to each other. If you feel safe doing that in the comments here or on our Facebook page, you are welcome to.
Oh, you human beings, you Pagan mamas and papas, you amaze me with your ability to live through traumas that should never have happened, and come through fiercely fighting for yourselves and your children.
If your heart is broken, maybe that fault line can become the place through which more love can flow. In the words of Leonard Cohen:
Ring the bells that still can ring
Forget your perfect offering
There is a crack in everything
That's how the light gets in
A short list of resources: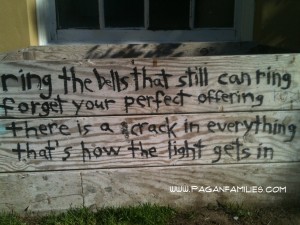 Also, here at Pagan Families we're expecting to post sometime in the next few days a personal reflection on a striking miscarriage experience.
What other resources have you found helpful?
Sarah Whedon is Chair of the Department of Theology and Religious History at Cherry Hill Seminary and is the founding editor of Pagan Families: Resources for Pagan Pregnancy and Birth. Sarah's teaching, research, and advocacy work center around topics of spirituality, feminism, and reproduction. She makes her home in San Francisco with her partner and their children.