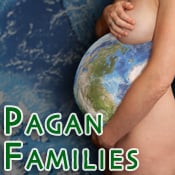 A weekly Wednesday Wisdom post with two or three profound or beautiful thoughts on a theme related to Paganism and childbearing. An invitation to meditate or just to pause a moment and consider.
Earth body, mama body, Gaia, garden…
"I am part of nature, connected in the web, born not only from my own mother, but from the body of Gaia."–Laura Paskell-Brown
Hip Mama: The Parenting Zine #53 The Food Issue
"I had a baby, I worked the soil; I nursed and fed her my milk/my garden. Our summer days were in the garden; the sun-drenched plot together; working/sleeping/working, resting. I watched her grow in the garden, playing the garden, eat from the garden; the garden nourished us." –Lacey Story, "Cycles of Life" in 
How are we and our babies embedded in the natural world? How do we give and receive nourishment on this Earth?