By Cindy McPherson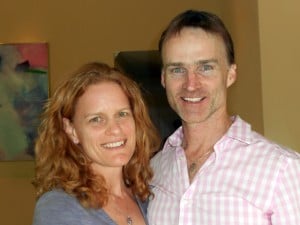 A good friend of mine terminated a problematic pregnancy, and she wrote about it online in a courageous and beautiful way. Now she is taking a priestess program, which I have been part of for many years, and after seeing one of her mentors recently, she told me, "I'm planning a ritual for the child I lost."
"I want to hear about it!" I said, "And remind me, when we meet, to tell you about the ritual I did to bury my unborn (and un-conceived) babies."
My journey with infertility is another story. It was confusing and terrifying – hard to believe I would not continue my line, and terrifyingly sad for quite awhile. Then there was a moment in therapy where I realized I was not going to have babies in this lifetime, and I needed to accept it. I needed to at least begin to accept it. As a woman of ritual, the path of acceptance was certain to include ceremony to help me let go of the hopes and welcome what's true.
I flashed on a vision of my backyard, and a phrase about "burying a dead baby" or "burying a baby doll." I stuck with that intuition and arrived at this ritual:
I had eggs – little plastic eggs for stuffing Easter candy, gold and bright pink. I had used them on my altar for fertility. I realized I needed to bury these eggs. I needed to bury my eggs and the babies that they weren't going to make, along with the hopes and expectations I had held for baby making. I needed to bury the potential that my eggs represented, and make peace with the reality that I'd been born with all those eggs and been releasing them a month at a time for thirty years, and that was all that those eggs were going to do.
I went to the party store, looking for an aisle with favors for new baby parties. Sure enough, there were little plastic packages filled with handfuls of little plastic babies! I chose a bag of teeny ones and a few slightly larger, and drove to the Berkeley hills.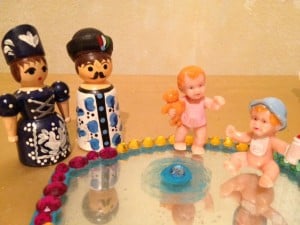 There is an easy long hike I take at Inspiration Point that heads far out along a ridge over the San Francisco Bay. There is one particular place where the paved path begins to end, green hills roll out ahead, and cows are usually grazing in the distance. Once when I was there I felt like I was in Ireland, a place I traveled to do ritual with the energies of the land, so I've bookmarked it as a sacred spot.
I forged a way across the lumpy terrain, sat down in the grass and dirt with a stick, and began digging and praying. I made a small hole. I packed the teeny babies into the larger ovary-shaped plastic eggs. I laid the eggs in the grave, and buried some of the larger babies too – children I wouldn't have. I said prayers over them and spoke with Spirit about what was happening, how I was feeling, what I was grateful for, what I wished for.
Of course I cried; grief was present and the reason I needed to be there. But I also felt satisfied: this morbid action made plain the loss I was grieving, and in its plainness, it satisfied me. This terrible truth, that my eggs will not bear fruit, is my truth, and as I own it, I am more whole. I delighted in that satisfaction, and that I could find, through ritual, the medicine I needed in order to move forward and cross a threshold into becoming the mother I want to be. Now I that knew and accepted that it wasn't going to happen by pregnancy, I could stop trying against fate and find the flow of my path towards joyful motherhood.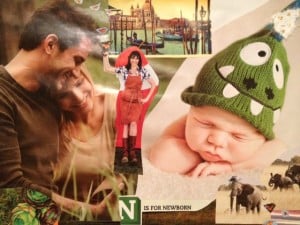 I kept two of the larger plastic babies, both with red hair (my dream) and brought them home in my pocket to place on my altar. Within a month, after immersing myself in reading about infertility and other paths to creating family, I knew I wanted to pursue open adoption, and my partner and I chose to sign on with the Independent Adoption Center. We went into circulation and have been waiting nine months to become parents through open adoption. (Go ahead, like us!)
Cindy McPherson is a prospective adoptive parent. Learn more about her and James at http://www.iheartadoption.org/users/cindyjames (and spread the word that they are ready to adopt a baby through domestic open adoption). Cindy apprenticed for many years in Toltec shamanism, through Toci, the Toltec Center of Creative Intent. She works as a spiritual life coach and a technology project manager. She loves to create ritual.