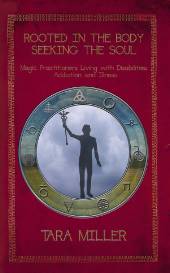 The past few weeks I've been reading Rooted in the Body, Seeking the Soul: Magic Practitioners Living with Disabilities, Addiction, and Illness by Tara "Masery" Miller, and containing articles and interviews from a diverse group of Pagans.  It has been an absolutely fascinating journey.  The book accepted contributions from a variety of Pagans (as the title says) living with disabilities, addiction, and illness.  Perhaps of particular interest to those reading Pagan Families, it also has four chapters by women and men dealing with difficult pregnancies, infertility, and children's medical issues.
I am grateful to have had little experience with limited physical ability in my own life – hyperemesis gradivarum, a severe form of morning sickness affected my first two term pregnancies, and a week of bedrest and a separating pelvis with my third.  Reading the life experiences of those who must find a way to cope with these difficulties day in and day out is incredibly enlightening.  Here, not only have I gained insight into the lived experience of those with lives different (and yet not so different) from my own, but there are also several windows into ways that Pagan groups can become more open and accommodating.
In the first article in the section entitled "Parenting Disabled Children, Difficult Pregnancies, and Infertility,"
Lisa "Spiral" Besnett writes a beautiful affirmation that incorporates the Elements and hospital imagery, written in the NICU after one of her son's early surgeries.  In the second chapter, Tara "Masery" Miller interviews Janet Callahan, who struggled with infertility and a long-term hospitalization during both of her pregnancies.  Then in the third article, Janet writes about caring for her two children in the hospital, both in the NICU and PICU.  Lastly, an article by Masery discusses coming to terms with her own infertility.
I identified strongly with these chapters, especially those by Janet.  Having spent time with my own child in the NICU, I completely understand so many of the things she talks about; and I think it's important that other Pagans understand these feelings as well.  So often, people will make comments that seem helpful or encouraging, but from the point of view of the parents it can be hurtful.  Janet's article describes very well the difficult emotional turmoil that having a child in the hospital foists upon parents.
I greatly appreciated the talk of infertility and the emotions and processes of coping that go along with it.  Getting pregnant has always been easy for me, and it's difficult to know what to say to those who are going through that struggle.  Masery and Janet both give their perspectives, and though their words can hardly speak for all women or men dealing with this, having the dual experiences gave me a great amount of insight, and perhaps some ideas on how to comfort or help the adjustment of friends in the same situation.
Rooted in the Body, Seeking the Soul contains ten sections and twenty-two chapters, ranging in topics from "Antinous the Imperfect", an article by P. Sufenas Virius Lupus on the assumption of deity's perfection, to "Learning to See", a practical article by Michael Miller with great tips for those who don't see well or event organizers who may have someone attend their event.  It is a treasure trove of lived experience and life stories, and I think it's important for any Pagan to read.
Disclosure: I received a complimentary digital copy of the book for review purposes.