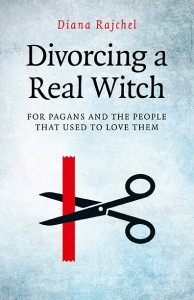 Review: Divorcing a Real Witch: For Pagans and the People That Used to Love Them by Diane Rajchel
This is a book I asked to review not because I have been through the pain and process of divorce myself, but because it offers another perspective in the raft of pagan lifestyle books that are currently appearing. I have to admit though that as the child of divorced parents, and as an author interested in the lives of children, I didn't come to this title without investment and interest. It is sad that within the wider Pagan community, divorce and separation is all too common, and so many of us don't consider the ways in which Pagans individually and communally may offer support and care at such a time. Rajchel's title therefore is extremely timely.
It is clear from the outset that this is a very personal subject for Rachjel, and in the forward and through the early chapters we are given an honest and heart felt account of her personal journey through the end of a marriage and a divorce in her 20s. She uses her own divorce as the starting block to delve into the various issues of divorce as a Pagan.
The chapters cover a variety of subjects, in varying degrees of depth. For example, in the initial chapters, notably Chapter 2 The Divorced Pagan and Society, she covers a lot of ground on the relationship between the divorcee and friends, family, societal expectations and pressures, including specific details such as the significant role of the witness. I was particularly interested in a section entitled Divorce and Mystery, where she details the use of tarot in divorce, and it inspired me to think about divorce as a process of change, something we Pagans celebrate and honor in our mythic and ritual cycles.
Later chapters, such as Chapter 5 The Inner Work of Divorce and Chapter 6 Handparting Rituals, detail rituals and magical workings to help release old relationship patterns, handle anger, protect yourself from abuse and negativity, and most notably an in depth description of a handparting ritual that can be adapted to suit any couple. The magical operations and handparting rituals here are magically sound and have some moving components – for traditionalists there are some lovely inclusions with rose thorns, lunar phases and mirrors. The rituals outlined are suitable for multiple path pagans, as they are adaptable and non-path specific.
Throughout the book Rajchel employs voices from a self-selecting sample group of Pagans who had experienced divorce that she conducted a survey with, and these voices often add breadth of experience and interesting opinion to the book's discussion. At times, however, I felt that their placement and structuring made the readabilty of the book a little disjointed. Perhaps this was because they left me wanting to know more about their journey to and through divorce in more detail.
I was surprised that there was little discussion of the question of children in the book. The complexity of managing children's emotional needs in divorce is not a focal point in this text, despite the fact that Rajchel does touch on the subject. The section entitled Children (pg 30) has only two paragraphs detailing the challenges of children in divorce, before going on to discuss the role of the witness. Whist detailing that children are not necessarily scarred by the process of divorce but by parental conflict and unhappiness, and persuasively describing the statistics that show the prevalence of divorce in wider family structures, I felt there was a missed opportunity to explore how we can hold children or include children in the process of divorce as Pagans, or to detail how some children may suffer the double blow of being in a minority faith group and from a 'broken home'.
In Divorcing a Real Witch, Rajchel describes the process of her own divorce through a Pagan lens and offers insight into the complexity of divorce irrespective of spirituality, yet how it can be aided with the help of magical tools and Pagan spirituality. She does not judge nor preach, but speaks here with both pragmatism and honesty; she feels like a friend talking to you – a warm and level-headed friend who has been through her own journey, and the kind that you would want around you when you were navigating the turmoil of a divorce.
Disclosure: I received a complimentary version of the book for review purposes.
Divorcing a Real Witch can be purchased in the Pagan Families store.