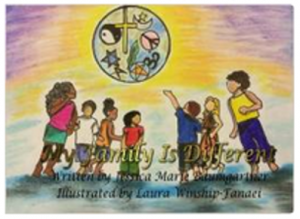 I'm always on the lookout for Pagan picture books for my children to enjoy, so when I was given the chance to review My Family is Different by Jessica Marie Baumgartner, I jumped on the chance. While most books of this genre for younger children will focus on teaching them about Pagan traditions, myths, and faith, Jessica goes in a whole new direction that I really love.
The book begins with a little girl, reflecting on how different her family is. Her mother tells her that everyone's family is different; but the little one is not quite convinced. She goes on an adventure, asking each of her friends what they believe and learning a little bit about a number of different religions as a result. At the end, of course, she realizes that everyone believes different things, which helps her to feel happy and proud of her own differences.
As I said, this book doesn't go into a lot of detail on Pagan practice; simply mentioning honoring the moon and the God and Goddess. Even though I'm not raising my children in a Wiccan tradition, but rather in a Heathen one, we still got a lot out of it – the little girl's differences from us were just another illustration of the main point of the book. The little girl's friends include a Mormon, a Catholic, a Jew, a Muslim, atheists, and a Hindu child.
Living in the midwest, my children are not surrounded by a great deal of diversity. Much of what they see is within their own family, so it can be hard for them to understand the many many variations on religion and culture that are present in the world. Reading through this book sparked a discussion with my oldest daughter on some of the diversity in her own classroom that I hadn't heard about before; she began telling me all about the little boy in her class who celebrated the Chinese New Year last year. I also appreciated the great ethic diversity of the children and families illustrated by Laura Winship-Fanaei; my children, who have darker skin, always notice and appreciate when someone in a book looks like them. Overall, I think this is a good book for families with less mainstream traditions to have around – just hearing about the great diversity of the world can be very comforting to those who are different.
Disclosure: I received a complimentary copy of this book for review purposes.