The top media stories in Paganism and Shinto for Apr 23rd- 29th:
Heathen soldier is granted permission to keep his beard because of his faith
Sumo association in consultation on whether to continue banning women from sumo rings
Wiccan prisoner sues prison for not providing ice cream
And in Tanzania, murders of people accused of being witches have declined by over 60 percent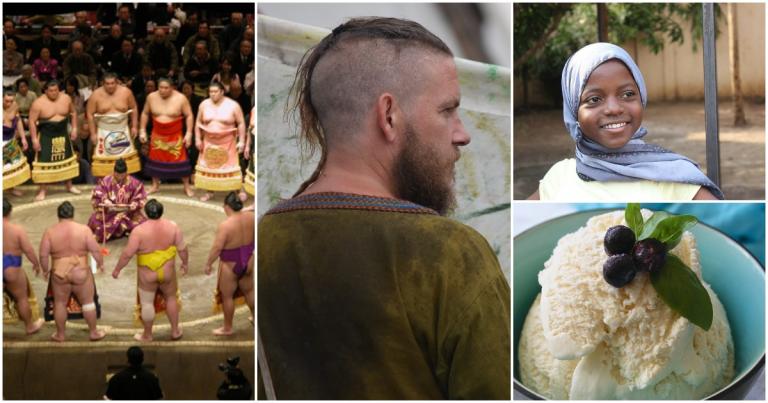 Read these and more stories…
Pagan News
Army Times: A soldier just got authorization to wear a beard because of his Norse pagan faith
A soldier was recently granted permission to wear a beard in accordance with his Norse Pagan faith in a rare exception for facial hair for religious reasons…
Metro: Witch sues prison for refusing to let her feast on 'religious' ice cream
A transgender sex offender housed in a notorious prison has sued after officials barred her from feasting on ice cream during a Pagan festival…
Daily Sabah: Archeologists find ancient Osiris shrine in Egypt
The shrine of god Osiris-Ptah Neb, dating back to the 25th dynasty, was found in the Temples of Karnak in the southern city of Luxor…
The Wild Hunt: Pagans Represented At Faith and Police Together Event
Members of the U.K.-based Police Pagan Association were involved this week in the launch of Faith and Police Together.
The Wild Hunt: Witch recasts Barbies as goddesses and Pagans
In 2009 Oberon Osiris began designing his own Pagan outfits for Barbies…
The Independent: Meet the witch making a living casting spells for the lovelorn and cash-strapped
"My interest with everything to do with the supernatural and paranormal began when I was a teenager," explains Victoria Zasikowski, 44, from her home in Cardiff…
The Sun: Chilling 'real life exorcism' footage shows 'possessed' man frothing at the mouth and growling demonically in Australia
The ceremony involved the man lying on a pentacle circle to be bound with rope while Lizzy circled around him wafting sage smoke over his body.
The Conversation: In ancient Mesopotamia, sex among the gods shook heaven and earth
Mesopotamian deities shared many human experiences, with gods marrying, procreating and sharing households and familial duties…
The Wild Hunt: Eyeing an independent California – Pagan Perspectives
A new proposal to cut California loose from the other 49 United States has been getting more traction than most similar past suggestions, prompting the question of what consequences of an independent California might be for Pagans…
South Coast Today: Sanctum Folklorica brings remedies and witchwares to New Bedford
Sanctum Folklorica, the newly opened apothecary and witchwares shop in downtown New Bedford, offers something for all, from practicing witches to anyone who desires a touch of magic in their life…
Shinto News
Japan Times: Sumo Association to rethink ring ban on women but confirms they can enter in emergencies
The Japan Sumo Association said Saturday it will solicit opinions from experts and the public about its heavily criticized policy of banning women from setting foot in the sumo ring…
Japan Times: Chichibu: Steeped in tradition, but challenged by industry
The Chichibu region in Saitama Prefecture is known for its deep Shinto and Shugendo roots, as well as its Buddhist 34-temple Kannon Pilgrimage…
Green Shinto: World Heritage Munakata Taisha
In 2017 a Shinto shrine received recognition from Unesco under its own name, placing it in the prestigious front rank of Japan's World Heritage shrines. Munakata Taisha, comprising four component parts, is in Fukuoka Prefecture, Kyushu, and owes its status to the tiny uninhabited island of Okinoshima…
Other News
AllAfrica: Tanzania: Witchcraft-Linked Killings Seen Easing
There is a steep downward trend in witchcraft-related killings in the country, with a new report indicating the reduction of such crimes by over 60 per cent over the past five years…
IFL Science: Mysterious Human-Like Statue Found In Siberia Is Twice As Old As The Pyramids
What this statute was for is still shrouded in mystery, but new research has revealed that the wooden idol is twice as old as the Great Pyramids of Giza…
Pacific Standard: Superhero Stories Aren't Myths. They're Anti-Myths.
Unlike myths, superhero sagas suggest that justice is actually attainable…
BBC: How to Hanami: Chasing Japan's cherry blossom season
"Hanami", which means flower viewing, is the traditional custom of enjoying the flowers' transient beauty – and people picnic under the trees to mark the start of spring…
Hindustan Times: Branded witches, 65-yr-old tribal woman and brother clubbed to death in Bengal village
A 60-year-old tribal man and his elder sister were clubbed to death on Monday in Bengal's East Burdwan district allegedly by their nephew, Bishu Mandi, and some local villagers.
Punch Nigeria: We killed our brother for making us poor through witchcraft, suspects allegedly confess
The operatives of the Nigeria Police, Akwa Ibom State Command, have arrested two brothers, Akaninyene and Ime Enyeokpon, who allegedly conspired and murdered one of their brothers, Friday Enyeokpon, over witchcraft allegation…