Top stories in Paganism and Shinto this week:
Cleric battles to exonerate innocent 'witches'
Burial mound owner 'worried' over long barrow's £13,000 tax bill
Sacred Kagura dancing theatre opens in Osaka
Read more below…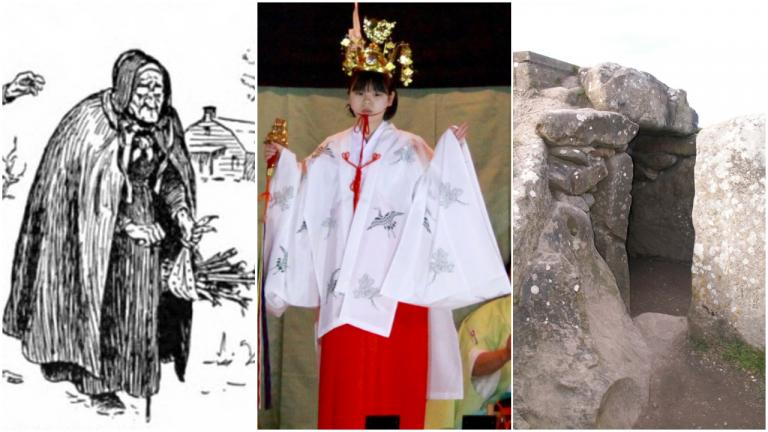 Pagan News
Burial mound owner 'worried' over long barrow's £13,000 tax bill
BBC News
The owner of a burial mound has received a tax bill of almost £13,000, despite him claiming it should be tax exempt as a place of worship…
Rainbow Pagan Graphics For Pride Month
Patheos Pagan: Melissa Hill
I have felt that we pagans need more pride graphics and images, especially ones that have anti-racist symbology as well…
Magic, sex and blessings at an unconventional seder in Berkeley
The Jewish News of Northern California
The JeWitch Collective is exactly what it sounds like: a group of people who are connected to Jewish spirituality, magic-based practices or both.
The Age of Aquarius, All Over Again!
The New York Times
We're living in the middle of a religious revival; it's just that the movements that are rising are not what we normally call "religion."…
South African Heathens and Declaration 127
The Wild Hunt
In May this year, South African Vitki Brad McMahon, founder of Ensamvarg, publicly acknowledged his support for Declaration 127. For readers not familiar with Declaration 127, it is described as "a denunciation of, and disassociation from, the Asatru Folk Assembly."…
This couple had a traditional viking wedding complete with blood offering
Metro
Instead of a traditional white dress and a wedding cake, Dorian Yuste, 43, and his partner Charlie, 34, had a three day Viking wedding, complete with blood offerings and a hog roast…
The Pagan way: The Broom Closet caters to the polytheistic
The Blade
Whether you're an open adherent, a quiet explorer, or simply curious about the ancient tradition and its accoutrements, Jennifer Amato hopes you'll feel welcome at the metaphysical shop…
Summer Solstice at Stonehenge is this Friday – Here's what you need to know
Salisbury Journal
Tens of thousands of people are set to gather at Stonehenge for the Summer Solstice celebrations on Friday.
Here's why you should go out dancing this weekend to celebrate the full moon
Yahoo! Lifestyle
The Strawberry Full Moon will peak at 4:31 a.m. EST on June 17th, mere days before the Summer Solstice…
Celebrating Summer Solstice With Women Empowering Women
Cochrane Now
This Sunday evening (June 16), Women Empowering Women in partnership with the Cochrane Public Library will be celebrating the beginning of summer with a mystical and inspiring event…
Pen Henge ceremony to mark summer solstice
Summerland Review
Event on Munson Mountain in Penticton celebrates the longest day of the year…
Father's Day 2019: Paganism, roses and how the campaign to celebrate dads was won
The Telegraph
Some pagans suggest that Father's Day is closely linked to the Pagan Sun worship, because the sun is thought to be the father of the universe and the celebration of dads falls closely to the summer solstice…
The Reflections of Pride
The Wild Hunt
For those of us who are privileged enough to do so, let us try to focus, for even just one day, on what we find to be beautiful about ourselves and the world we live in. And because we are Pagans (or at the very least, Pagan-adjacent, if you are reading this blog,) I propose we do so by using magic…
The Wicca man: Merseyside's secret witchcraft past
Liverpool Echo
On that Friday in the late 1800s, Gerald Bosseau Gardner was born. He is the man now known as the father of modern witchcraft…
The Charge of the Goddess – Who really wrote it?
Patheos Pagan: Sorita D'Este
The fact is, even though it is sometimes heretical to say so, Doreen Valiente did not write the Charge of the Goddess…
The real witches of Los Angeles
Mail Online
Women are turning witchcraft into full-time jobs thanks to their online presence…
America's working witches just want you to be your best self
Stuff.co.nz
America's modern working witches, whose prominence is growing thanks to social media, primarily see themselves as healers…
Why does Ritual Matter for Social Change?
Resilience
There's a new wave of interest in creating ritual spaces and practices that are designed to meet the challenges of the 21st century. They're not modelled on any particular faith but draw on an eclectic range of religious, magical and secular healing traditions…
Are crystals the new blood diamonds?
The Guardian
Many of us are lured by their beauty and promise of mystical powers, but are 'healing' crystals connecting us to the earth – or harming it?…
Shinto News
Theater opens in Osaka, devoted to 'kagura' performing art
The Asahi Shimbun
An exclusive theater opened near JR Nanba Station to promote the traditional performing art of "kagura" (sacred Shinto music and dance) at home and abroad…

Former Imperial Couple Visit Emperor Komei's Mausoleum
Nippon.com
Japanese Emperor Emeritus Akihito, accompanied by Empress Emerita Michiko, visited the mausoleum of Emperor Komei in the western Japan city of Kyoto on Wednesday to report his abdication on April 30…
British Museum Announces Collaboration And Display With Nara, Japan
Broadway World
The British Museum has announced a special free display across two locations within the Museum of 15 major Buddhist and Shinto sacred images, to be loaned this autumn from Nara Prefecture in Japan…
What it's really like to join a Japanese festival and carry a mikoshi around Tokyo for a day
SoraNews24
We join the festivities at Suga Shrine, made famous as one of the real-life locations from the hit anime film Your Name…
Wakanoura keeps attracting people as "holy place of waka poetry"
Kyodo News
The Tamatsushima Shrine, facing the bay, enshrines Sotoorihime, the goddess of waka poetry…
CASE-REAL renovates Japanese shrine with gold and pink terrazzo tiles
Design Boom
Architectural firm CASE-REAL has renovated the dazaifu tenmangu shrine, located in dazaifu city, fukuoka, designing anew its jyuyosho – the kiosks located on each side of the tower gate leading to the main hall of the tenmangu, where japanese amulets (omamori) are granted to visitors…
Other News
Cleric battles to exonerate innocent 'witches'
DW
A retired pastor is urging German cities to rehabilitate 25,000 people executed long ago. With "witch" persecution still rife in parts of the world and xenophobia rising in the West, his campaign is as relevant as ever…
Stonehenge tunnel would cause 'unacceptable damage'
Salisbury Journal
A leading archaeology professor has claimed the Stonehenge tunnel plans will mean the loss of "over half a million" prehistoric artefacts within the World Heritage Site, should plans go ahead…
Anglesey archaeology: Bronze Age cairn dig at Bryn Celli Ddu
BBC News
An excavation is under way on the site of a suspected 4,500-year-old burial cairn that lies next to one of Wales' most important prehistoric monuments…
'The Craft' remake is having an open casting call for transgender Latinas
Hip Latina
Casting agents are currently in need of four women, one of them being a transgender Latina…
Egypt asks Christie's to cancel sale of Tutankhamun statue
The Telegraph
Christie's in London is being pressured to cancel the auction of a statue of Tutankhamun's head after Egyptian authorities claimed that the bust might have been stolen from the Karnak temple in Luxor…
22-year-old 'psychic' arrested and charged after alleged scam involving a 'special crystal'
Kamloops BC Now
A 22-year-old Canadian has been arrested and charged with fraud after allegedly defrauding multiple victims out of thousands of dollars with a "psychic scam."..
'Shameful' witchcraft history of West Fife on show in Dunfermline
The Telegraph
The witchcraft trials of West Fife take centre stage as part of a new art exhibition in Dunfermline…
For sale: 'Haunted' medieval prison that held accused witches
Live Science
A small building in England that was once a medieval prison for people accused of witchcraft is now a cozy home in need of an owner…
Vengeful gods may be the product of complex societies
ZME Science
According to a new study, vengeful gods surfaced after societies crossed a certain complexity threshold, typically appearing in civilizations with over a million people…
John Bishop's Ireland and the continued fascination with the country's fairy folklore
Irish Central
The recent ITV series John Bishop's Ireland has provided some fascinating insights into our country and covered off many subjects and issues, with a notable moment in the first episode seeing the stand-up comedian listen to a lecture on fairies while visiting Cork…
Where island is worshipped as Goddess Bhabeshwari
Orissa Post
There is no sculpture of Goddess Bhabeswari on the island. The entire island is basically a huge rock like structure, and the rock itself is worshipped as Goddess…
Jharkhand police rescue 55-year-old woman held hostage, branded witch by villagers
Hindustan Times
According to police, residents of Purihasa village got hold of the woman and held her hostage around 3 pm and threatened to kill her if she didn't cure the 15-year-old sick girl immediately…
Kenya: Chief arrests his 76-year-old mother, 5-month-old baby over witchcraft allegations
Tuko
A 76-year-old woman alongside her daughter-in-law and her five-months-old son were forced to spend a night in Kisumu Central Police Station after they were arrested by Nyalenda assistant chief over allegations of witchcraft…
India: Elderly woman killed on suspicion of witchcraft
The Pioneer
A 55-year-old woman was allegedly killed on the suspicion of practicing black magic at a village in tribal-dominated Jashpur district, police said here on Sunday…