Top stories of the week in Paganism and Shinto:
Italy: Sacred stone tied to legend of Romulus & Remus unearthed in Rome
US: Patricia Kennealy-Morrison, writer who wed Jim Morrison in pagan ceremony, dead at 75
Greece: Firefighters battle to save Olympic site as wildfires rage across southern Europe
Read more below…
*=Registration may be required.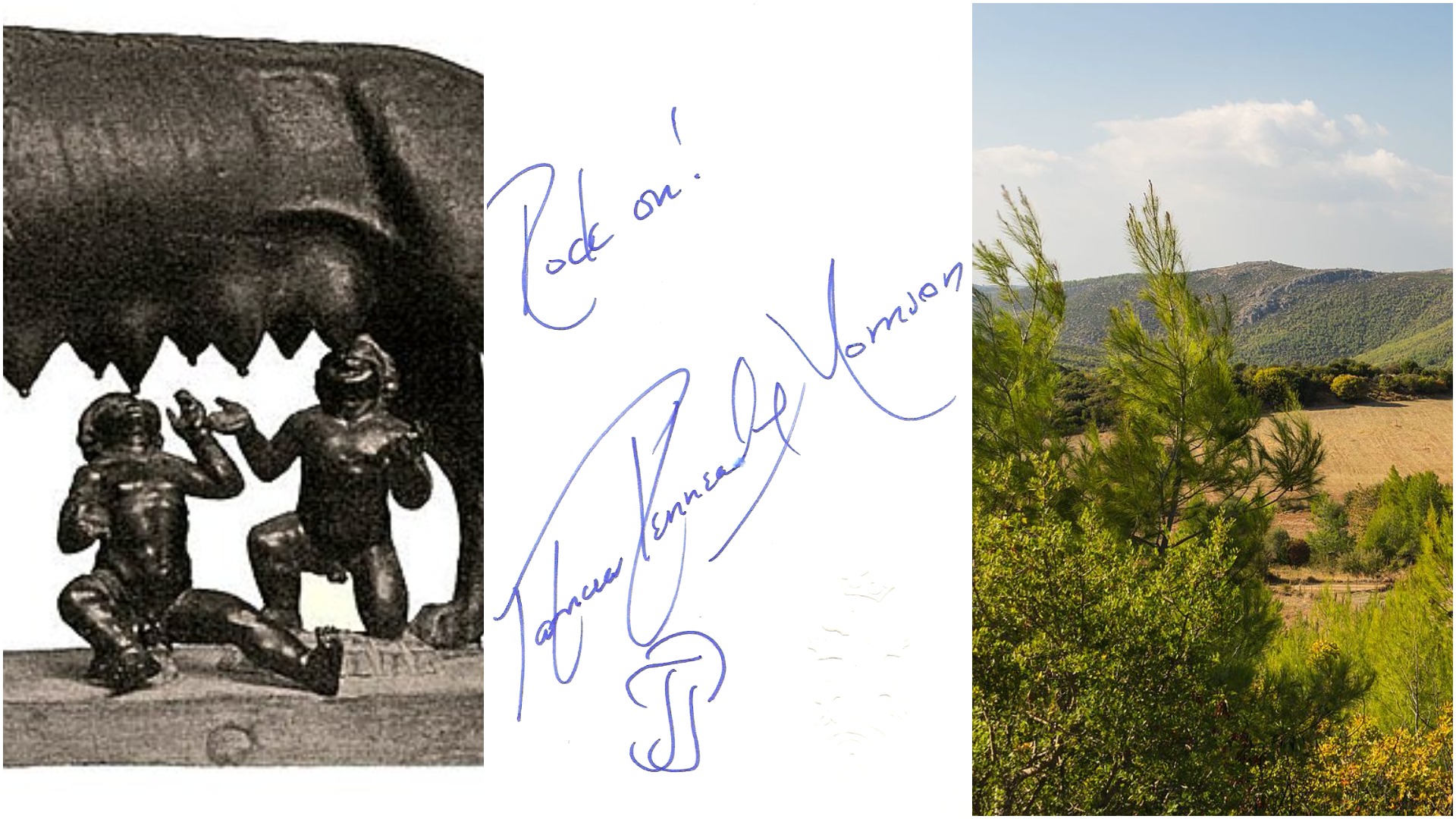 Pagan News
US: Patricia Kennealy-Morrison, writer who wed Jim Morrison in a pagan ceremony, dead at 75
1430 WCMY
Patricia Kennealy-Morrison, a rock music journalist, author and one-time romantic partner of Doors frontman Jim Morrison, died on July 23 at the age of 75…
UK: Stonehenge tunnel plans continue despite high court ruling
The Guardian
Highways England says it is proceeding with £1.7bn scheme after judge declared it unlawful…
US: Converse sneakers featuring pentagram sparks backlash from Catholic exorcist
The Mix
Father Vincent Lampert, a Catholic exorcist, spoke out this week to warn that the newly unveiled Converse sneakers that features pentagram designs could lead to fascination with the occult…
UK: More than 100 women seen crying at Full Moon Ritual
Manchester Evening News
The crowd of 107 went to a "beautiful spot" on Formby Beach to celebrate the Full Moon…
Moon Water explained: The latest health trend even Victoria Beckham is obsessed with
Women's Health
Apparently even those of us who don't own crystals can reap the energetic benefits of the charging process using just water. The secret? You have to leave it under the moonlight…
Shinto News
At Tokyo Olympics, Shinto shrine gives athletes a different kind of competitive spirit
The Globe And Mail
Once, Kameido Katori Shrine was where warriors sought divine favour before battle. Now, Japan's competitors go there to ask for help in an Olympics unlike any they've seen before…
Artist Masako Miki draws on ancient Japanese mythology to explore non-binary identities
Creative Boom
Interdisciplinary artist Masako Miki refers back to the Shinto concept of shapeshifters that take the form of everyday objects and unidentifiable forms to provide resolutions to our modern-day conflicts…
The secret life of sake, Japan's national obsession
National Geographic
From boisterous bars in Tokyo to bucolic breweries in the hinterlands beyond the capital, sake is intertwined with this island country's cultural and spiritual life…
The untidiness of Marie Kondo's eclectic spirituality
Religion News Service
Kondo describes aspects of her spiritual brand as inspired by Shinto, but the ideal KonMari lifestyle is presented as one in which we adopt and adapt whatever practices 'feel right.'…
How female sumo wrestlers are challenging ancient sporting traditions
SBS
It's the national sport of Japan with a history spanning centuries, but modern sumo finds itself caught between the deep traditions of its past and growing calls for change…
Expert committee on the imperial succession
Mimusubi
When the law was passed to depose the previous Tennō (allow him to abdicate), an appendix was added requiring the government to look, as a matter of urgency, into the problem of the Imperial succession — the problem being that there is only one male member of the Imperial family under the age of fifty, and the law limits succession to men in the male line…
Other News
Italy: Sacred stone tied to the legend of Romulus and Remus unearthed in Rome
LiveScience
An immense stone that defined the sacred city limits of ancient Rome almost 2,000 years ago has been unearthed by construction workers in the historic center of the city…
Greece: Firefighters battle to save Olympic site as wildfires rage across southern Europe
ITV
Firefighters in Greece have waged an "all night battle" to save the site of the ancient Olympic Games from forest fires fuelled by soaring temperatures…
Greece: Archaeologists find new treasures at the Temple of Artemis in Evia
Greek Reporter
Archaeologists have discovered new findings in the Temple of Artemis, which is located east of Amarynthos in Evia, central Greece…
3D project will bring Ogham writing to the masses
The Times*
Irish and Scottish academics will use 3D technology to transform how ancient Celtic writing is understood and protected…
UK: Geological analysis explains durability of Stonehenge megaliths
Reuters*
The first comprehensive scientific analysis of Stonehenge's imposing megaliths has revealed some of the traits that made them an exemplary building material for the famed monument in southern England including their stout resistance to weathering…
UK: Collector of strange, magical objects opens Cornish folklore museum
Cornwall Live
A man in West Cornwall with a vast collection of strange, magical objects has opened a pop-up museum…
The Welsh history and mythology behind The Green Knight
Nerdist
David Lowery's latest film, The Green Knight starring Dev Patel, is a loose adaptation of the epic poem Sir Gawain and the Green Knight, a late 14th-century chivalric romance originally written in Middle English…
In Bolivia, ritual fires honor earth goddess Pachamama
Reuters*
High atop the Andes Mountains in Bolivia, indigenous people gathered at dawn for a ritual ceremony in honor of Pachamama, the goddess of Earth and fertility, with fires and offerings…
UK: Ancient origins of London's Alfred the Great statue revealed
The Telegraph*
A beautiful stone carving of a draped robe is believed to have come from a colossal ancient sculpture, almost certainly dedicated to Minerva, the goddess of wisdom and just causes…
'Witch Hunts' Past & Present
India: 4 persons hacked to death in 2 incidents on suspicion of 'witchcraft' in Odisha
Hindustan Times
Police said six persons, including two minors, were arrested on Monday in Kunajam on charges of battering a man, his wife and his nephew to death, because the accused suspected they practised 'witchcraft'…
Zimbabwe: Man butchers neighbour over 'witchcraft'
News Day
An Old Mutare man was remanded in custody for striking his neighbour three times with a machete, accusing her of 'witchcraft'…
Zimbabwe: Mount Darwin man kills grandfather over 'witchcraft'
News Day
Villagers of Kandeya in Mount Darwin were on Monday shocked after an 82-year-old man was fatally struck with an axe handle by his 27-year-old grandson over allegations of 'witchcraft'…
South Africa: Police arrest suspects for stabbing woman suspected of 'witchcraft' to death
The South African
Police arrested two suspects who killed a 62-year-old female suspected of 'witchcraft' at Nkanti location in the Eastern Cape…
Liberia: Man, 43, Severely flogged for alleged 'witchcraft' activities in Sinoe
GNN Liberia
The Crime Services Division of the Liberia National Police has dispatched a team of investigators to probe the flogging of a 43-year-old man by traditional leaders in Doduwken, Jleepo Statutory District, Sinoe County…
Ghana: Victims of Witch Camps are being sexually abused – research
News Ghana
Victims of five Witch Camps in the Northern and North East Regions are being sexually, verbally and emotionally abused, exploited in monetary terms, and made to engage in forced labour without pay, a research has shown…
Namibia: Local lawyers support UN resolution on 'witchcraft'
All Africa
The United Nations Human Rights Council (UNHRC) last month passed the first ever resolution on the elimination of harmful practices related to accusations of witchcraft and ritual attacks.
Nigeria: 'Witch' group rejoices over sack of Cross River Forest boss, Tawo
Daily Post
The Advocacy for Alleged Witches (AfAW) has commended the government of Cross River State for sacking the Special Adviser to the Governor on Forest, Thomas Obi Tawo aka General Iron, who it described as a notorious 'witch hunter' and 'bloodletter.'..
In rural Kenya, locals brand cats with links to witchcraft
Yeni Safak
Furry animals labeled as bad omens, including numerous superstitions, many also oppose irrational hostility show to cats…