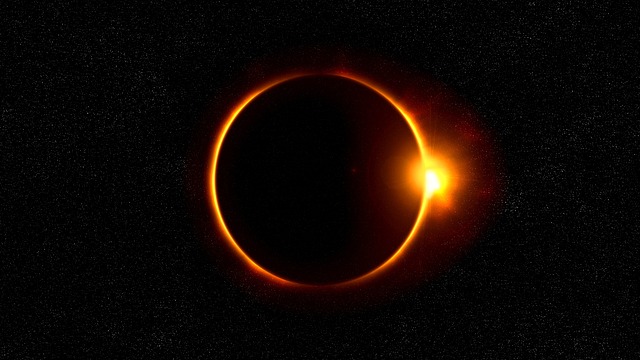 We have avid bird watchers, star gazers and tornado chasers. So why not Eclipse Chasers? Or to use their more sophisticated sobriquet, Umbraphiles.
Works for me.
These are folks who, having experienced a total eclipse, are now hooked and literally cross the globe for their next eclipse high. Something about the experience captivated them at a profound soul-stirring level, and planning and saving for another eclipse expedition is on the table.
And yes: of course there's a website (or two) where they can connect, network and take it from there. A popular one is  eclipse-chasers.com where chasers can even log their experiences and keep tabs on who has seen the most eclipes, spent the most time in the moon's shadow etc.
But said eclipse revelers are not necessarily the solitary, nerdy-astronomer types. Some are, yes. But many others are regular punters who were unexpectedly enchanted by their first celestial experience and their passion was fueled for life.
Meet David Baron
Author of American Eclipse: A Nation's Epic Race to Catch the Shadow of The Moon and Win The Glory of The World David Baron, has witnessed a number of knockout eclipses over the years. And the mystical import of the experience was not lost on him.
In a recent interview with The Verge, he waxes (sorry . . lunar puns are a given in this piece) eloquently about his first total solar eclipse in 1998, in Aruba . . "It was so moving, almost psychedelic. I just decided I wanted to experience it again."
Was he on plant medicine while witnessing this spectacular phenomenon? Nope: just high on the cosmic and existential ramifications of it all.
As he reflects at the end of his book:
"For me, personally, they are life milestones. Each forces me to reflect on who I was the last time I gazed at the corona. For us, collectively — as a society, a nation, a civilization — they can have the same indelible, life-affirming effect. They afford a chance not only to grasp the majesty and power of nature, but to wonder at ourselves — who we are, and who were were when the same shadow long ago touched this finite orb in the boundless void."
I Agree
Science can boggle our minds with its dazzling accuracy on celestial alignments and gravitational pulls. Science is cool. I mean, where would we be without it?
Back in the dark ages (Oh! another eclipse pun – you did get this one, right?)
But seriously: there comes a moment when even the most erudite among us, must let the rigors of empirical data dissolve in a pool of wonder . .
It's a pause moment when the art of science and the ineffable beauty and elegance of the universe merge. And we humbly acknowledge that brilliant but finite human minds can only comprehend so much.
As I reflect in my new debut book, Do It Anyway: Deep Spirituality Meets Real Life:
"There's no denying it: we inhabit a quantum universe of multidimensional mystery and intrigue. Scientist or pleb, none of us really knows what's going on from one moment to the next. And what we do know, we only know from within the confines of a limited, finite human consciousness that, for the most part, simply bounces around at the whim of whatever electromagnetic (bonding and rejection) impulses happen to be driving us at any particular moment.

Sure, we can do all the experiments, garner all the empirical data, and make all kinds of postulations and projections based on our findings; but until we establish some kind of mystical rapport and relationship with the science behind the mechanics of this amazing universe, we are fumbling in the dark."

Chapter 8 'A Designer God?'
On August 21 (Eclipse Day) David Baron will climb almost 11,000 feet to the summit of Redezvous Peak in the Teton Mountains in Wyoming to stand in the moon's shadow for . . a mere couple of minutes.
Perhaps this will inspire you to check out what could be a life-transforming moment for you too. A healing moment of communion with all that is.
Cover Photo: Pixabay