"The child who is not embraced by the village will burn it down to feel its warmth."
West African proverb
We interviewed Sheila Wise Rowe, author of Healing Racial Trauma – The Road to Resilience (InterVarsity Press, 2020) last January and talked about rage. Little did we know then that 2020 would usher in a year of misfortune, turmoil and tragedy unlike any other and it's only June. In her book, Sheila opens her chapter entitled "Rage" with the West African proverb above. Last week I personally experienced my village burning when the street in front of our home filled with protesters chanting, "No Justice, No Peace" in the midst of clouds of tear gas, shattering glass doors and windows and burning dumpsters. It felt like and looked like the 1965 March from Selma to Montgomery, Alabama only this march is 55 years later, but provoked by a common injustice. How could this moment of rage bring different, lasting outcomes? Sheila Wise Rowe shares her ideas.
Redbud: What is on your heart to talk about today given the current climate in our country?
Pressing on me and others is the question of what comes after the marches? We see virtue signaling in the form of things like diversity statements, but I'm hoping for more concrete things and particularly in the church. What is the Church going to do in this hour? Will she confront her own biases and honor and care for the poor, the oppressed, the marginalized, the widow and the orphan? I'm hoping the church will be the hands of Jesus in this moment, after decades of not fully committing to fight for justice. "They'll know that we are Christians by our love" needs to be true today.
Redbud: Thank you for sharing this quote from the late author and activist James Baldwin, "To be a Negro in this country and to be relatively conscious is to be in a rage almost all the time." How do you recommend dealing with this continual state of rage, both corporately and individually?
The rest of that Baldwin quote is often not cited; "So that the first problem is how to control that rage so that it won't destroy you." We need a corporate time of lament. God welcomes that as a place for our anger to be released. People coming together to lament the many griefs of this year as well as years past. Covid19 has peeled off the veneer, exposing a lot of issues: the disproportionate number of Black and Brown folks dying of Coronavirus, the last hired-first fired unemployment crisis, lack of quality healthcare for low income people, who is an "essential worker" and who is not. There is so much to lament and repent of, but we also need to enter into a time of repair, soul repair which I talk about in my book.
Redbud: What is helpful from Whites in the current conversation? I've read in a recent article that you don't want our "white tears."
White tears are for the moment, but we are looking for lasting impact. You need to ask yourself, am I willing to take my white privilege and fight not only for my children but for Black children or other children of color? A concrete example would be what Laura did for Carla in the Boston area where I live. Carla is a person who experienced systemic racism and I share her story in my book. Laura is her White friend. Carla wanted to buy a house in a predominately Black Boston neighborhood, but gentrification made housing costs to skyrocket to the point that Carla could not afford to buy in her own neighborhood. She told Laura about this dilemma and Laura started praying about it. She asked God how she could help her friend Carla get a house. After much wrestling in prayer Laura felt that the Lord wanted her to sell her house to Carla. When the appraisal came in, Laura's house appraised significantly above what she brought it for ten years prior and what Carla could afford. Laura ignored the appraisal and sold her house to Carla at the price she originally purchased it for. That's a lasting impact.
Redbud: What about the Church? How can the Church contribute a lasting impact and help move the culture beyond rage and repeat?
In addition to lament, there needs to be a full dose of introspection and self-examination. Lots of churches start reconciliation initiatives without asking the basic questions before the program gets rolling, questions like, "Do we really want racial reconciliation in our church and if so what does that look like? How are we going to make space for that to happen? What is the end goal? How can we fully inhabit this story? How are we reflecting the heart of God to people of color?" Engaging this process now will help produce longer term strategies and results.
Redbud: "No Justice, No Peace," is one of the rallying cries on the streets. In our city that was accompanied by breaking widows and looting. Is this a display of righteous anger that can be justified as such?
The cry of "No Justice. No Peace" is just another version of Jeremiah 6:14, "They offer superficial treatments for my people's mortal wound. They give assurances of peace when there is no peace." This chant is exposing the reality that there is no peace and we aren't going to pretend there is peace when it's a fake peace. It's intended as a wake-up call. Marching is disrupting that false peace. It doesn't mean there should be looting. I'd like to think that young people on the streets are fighting for what they believe in, what they were brought up in. Many of these young people did sit in church and believed what they were taught, but today they're overwhelmed, the church is silent and Jesus is absent from the conversations about justice. I don't expect them to get an understanding of righteousness from a mass protest. I'm also grappling with the anger and trying not to sin in my own anger, Ephesians 4:26. It's hard, but as the hymn says, "On Christ the solid rock I stand all other ground is sinking sand." As believers we need to individually grapple with the tension between justice and righteous anger and how we are reflecting the heart of God in these times.
Redbud: As a leader in the church and the community what would you like to see happen next?
Well, we don't need another study. We have plenty of data, now let's use it and talk about how we create a country where the vast majority of people are thriving. Let's take the initiatives that are working in the inner-city and implement them elsewhere. Let's look at changes that have happened, places where people are empowered and learn from those models. A suburb here in Boston has looked closely at food insecurity and realigned their grocery store shelves with this problem in mind. If we all intentionally attack the racial issues on various levels we will make progress. It may start within ourselves first, it may be by who we vote for or understanding how our resources are allocated in our communities. I hope the rage and the marches will translate into something more, confronting the inter-personal and systemic racism. Finally, like Carla's friend Laura, we have to be prayerful about how we go about it. My prayer these days is, "Thy kingdom come, thy will be done."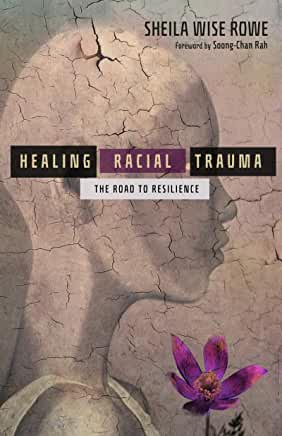 For more information on healing from racial trauma and forging a path to resilience, please read Sheila's book. Real life, valuable examples are shared of people who have experienced life-altering racial trauma and the means by which they are living victoriously despite those experiences. In her book, Sheila addresses soul care and repair, how to lament, dealing with rage and shame, how to develop resilience and she tells her own story of trauma growing up in the era of court-ordered busing in Boston. This book is highly recommended for those who seeking healing of racial trauma and those who choose to grow in understanding and appreciation of America's racial divide and desire to do something about it. "The cycle of evidence, denial and amnesia cannot be broken without an intrusive event. The reality of trauma on a social-psychological level has been missed in this dialogue, and this text by Sheila Wise Rowe is the necessary antidote." Soong-Chan Rah