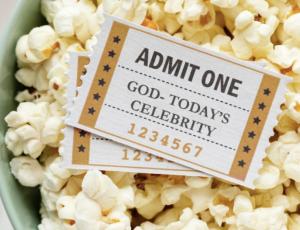 We, as humans are often impressed when encountering famous people in our world and accompanying paparazzi, but we should always be impressed with the presence God, the ultimate celebrity, who chooses to grace our presence in a sometimes quiet way.
Nonetheless, I have some interesting tales from Columbus, my fine Midwest city, to share.  One would not expect to inadvertently run into famous television and movie celebrities while simply jaunting about my town.   For me, it was a pleasant series of uncanny experiences that transformed the flickering shadows of yesteryear. into my reality.
After graduating from Ohio University, I moved to Columbus in the early 1980s.  I had made it a habit to stay up late nightly and watch old black and white TV shows on the "Nick at Night" network.  I was intrigued by that magical world in black-and-white. and spent hours in TV land, perhaps to my detriment.
One evening I went to bed at about 2:30 AM after binge watching the Twight Zone and "Patty Duke" shows, both from the early 1960s.   I needed to get up early for a job interview, and should have have gone to bed earlier.
After sleeping for only four hours, I dressed and drove down I-70, bleary -eyed, and pulled into the parking lot in front of the old Central High School which is now COSI .  I literally got goosebumps as I stepped out of my 1978 Pacer, and the guy in the car next to me steps out with a wardrobe bag.  I was stunned and truly felt I had reached the outer perimeters of the Twilight Zone.  Standing next to me in true technicolor was the VERY actor who played Patty Duke's father in the blurry black and white series I was watching 4 hours earlier, character actor William Shallert.
Most people would know his face as he had been on television for over 40 years in many programs.
He told me he was there to  be in a film movie called "Teachers".   He smiled and wished me a good day.  I was still half awake and could not imagine the phenomenal odds it would take for me to run into an actual person I was watching on an old black-and-white TV show, only hours before.   That's when the uncanny Columbus encounters began.
While working for the State of Ohio In the 1980s, on a sunny April noon hour-I decided to eat my bagged lunch while sitting at the foot of the previous large Christopher Columbus Statue which was located  in front of our city's City Hall and across the street from my office.  As I peered at my pastrami sandwich, an individual tapped me on my shoulder and asked me if I knew where there was a nearby natural food store.  I looked up and right in front of me was Gomer Pyle.   Well, actually, Jim Nabors the actor who played Gomer Pyle,  one of my favorite TV actors of all time.
He was dressed in Bermuda shorts and a Polo yellow shirt.
A bit startled, I looked at him and pointed towards the first floor of the nearby huge La Veque Tower building.  He thanked me and exchanged pleasantries about how nice Columbus folks' had been to him.  When he confirmed who he was,  he explained that he was doing a one-man show down the road at a nearby venue- and then he simply moseyed up towards the Building.  It was strange to see him in his civies and not dressed up like a marine, and without his usual unassuming gooberish tv persona.  He turned out to be a very pleasant fellow.
It was not long after that summer that I decided to spend the noon hour on the Ohio State House grounds.  People were flying kites, which was not atypical, but there was an unusually large group of small children with chaperones milling about.
It was a hot day and I didn't think anything about it.  Before heading back to my office, I headed to one of the public washrooms in the statehouse to brush my teeth and for a wet paper towel.   As I stood in front of a mirror wiping my brow, my left eye caught the figure of some one which immediately ushered me back to my childhood.  I immediately second-guessed my senses.  Standing to my left was none other then Captain Kangaroo himself (Bob Keeshan), dressed in full captain regalia.  I nearly choked on my toothbrush.   
I looked at him and asked "captain kangaroo? ".   He laughed and said yes and said that he was there attending a children's advocate program and testimony before state senators,  and commenting on the fact that they asked him to address a group of children in his iconic television get up and that he was very hot.    We chatted for a minute and as he left he looked at me and said " I'm glad to see you're brushing your teeth",  which was one of the Captain's standard  remarks to his audience as he closed out his daily program to millions of children.  I couldn't help but let out an ironic chuckle.
so, I humbly digress…it was encounters like this in my own home town which I remember fondly, but I never lose track of the fact the God himself is the ultimate encounter in all our lives, and by that I am truly impressed.  The paparazzi would be as well…a life ticket to see the Grandest Celebrity of all.
You can read this and other stories of inspiration by MichaelAngelo Massa, JD @ Patheos.com