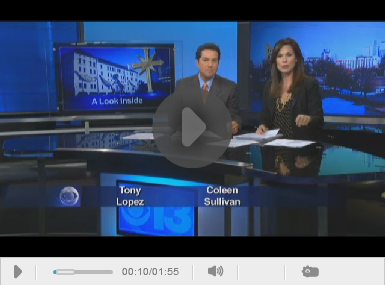 SACRAMENTO (CBS13) — After its grand opening over the weekend, the Church of Scientology offered the media a closer look at its new Sacramento location on Monday after a transition that took eight years to complete.
They took great care to preserve the exterior facade of the historic building on J and 6th streets. Inside it's completely different, gutted and renovated from top to bottom.
The building, formerly the Ramona Hotel, is six stories and 58,000 square feet.
"It's a big difference. We were definitely outgrowing old space," the church's Mike Klagenberg said of the move from Scientology's previous location at 15th and I.
The information center on the ground floor is where walk-ins can ask questions and watch videos. The chapel is just off the reception area. Quotes from Scientology founder L. Ron Hubbard cover the walls.
A library and classrooms are on the next floors up, and individual meeting rooms for counseling are on the fifth floor, where this device called an e-meter is used.
The device is used "to help members locate moments of trauma or stress … as a guide," church member Erin Banks said.
The church calls this one of just 27 full-featured, so called "ideal" Scientology churches in the world. It will serve the area's 12,000 members here.