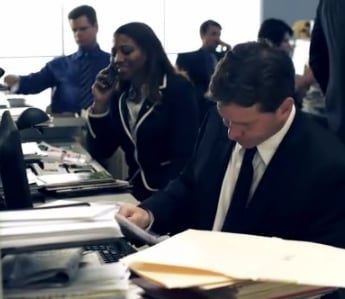 Free online course on how to organize anything in your life:
Anybody recognizes that if things were better organized, people would be better off. We have all had experiences with bureaucratic red tape, impersonal government agencies or careless commercial enterprises. The problem of poor organization is serious and costs trillions in waste, inefficiency and lowered productivity.
On a more individual level, organization is a key—and often missing—factor in personal success. It is also a necessity for a flourishing family. Attainment of one's goals, no matter how small or how large, requires a knowledge of organization. How do you most efficiently and productively manage your time, your activities and your resources? How do you minimize distractions? And how do you align your strengths in order to accomplish your purposes?
L. Ron Hubbard recognized that man was as lacking in understanding of how to organize his activities as he was about his true spiritual nature. And a sizable portion of his research was devoted to clarifying the subject of organization, a task he fully accomplished.
This course and corresponding booklet contain only some of the most basic principles of the organizational technology he developed, but these fundamentals are, by themselves, enough to greatly enhance the activity of any endeavor, whether that of a group or of an individual. Chaos and confusion are not natural conditions of life. They only exist when natural laws are not understood and followed. Here are some of the natural laws of organization and organizing>>