The finale of the 14th annual Youth for Human Rights International World Tour on Capitol Hill acknowledged stellar volunteers.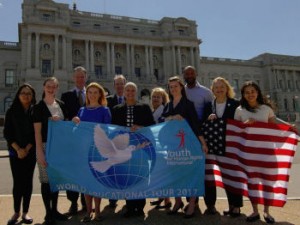 Outstanding human rights volunteers were honored with Presidential Volunteer Service Awards in a Capitol Hill ceremony marking the finale of Youth for Human Rights International's 14th annual World Educational Tour.
Ambassador Don Bliss (Ret.), President of the National Capital Area Chapter of United Nations Association of the United States of America, acknowledged Youth for Human Rights International President and Founder Dr. Mary Shuttleworth and presented her with a Presidential Volunteer Service lifetime achievement award.  
A representative of Congresswoman Ann Wagner's office presented a Presidential Volunteer Service Award to keynote speaker actor Marisol Nichols (Riverdale, NCIS, 24), Founder and Executive Director of Foundation for a Slavery Free World, for her work in exposing America's child prostitution crisis.
Also receiving 2017 Presidential Volunteer Service Awards were Bob and Irina Kaye of California; Emma Ashton of Florida; the Washington, D.C., Youth for Human Rights chapter; and the Delphian School Youth for Human Rights chapter.
Since 2003, President's Volunteer Service Awards have been presented to thank and honor Americans who by their example inspire others to engage in volunteer service.
The event was co-organized by Youth for Human Rights Washington D.C. and the Church of Scientology National Affairs Office. Youth for Human Rights International is the youth component of United for Human Rights.  
The Church of Scientology and Scientologists support United for Human Rights and Youth for Human Rights., which engage in collaborative efforts with government agencies and nongovernmental organizations to bring about broad-scale awareness and implementation of the 1948 United Nations Universal Declaration of Human Rights. Central to Scientology beliefs is a conviction that all humankind is entitled to inalienable rights. Inspired by Mr. Hubbard's words that "Human rights must be made a fact, not an idealistic dream," Scientologists support what has become one of the world's largest nongovernmental human rights education initiative.