Scientologist Wil Seabrook on what the Thanksgiving holiday means to him. Published courtesy of STAND (Scientologists Taking Action Against Discrimination).
Thanksgiving has always been one of my favorite holidays. Some of my earliest memories are of my extended family gathering at my great-grandmother's farmhouse in the country and eating an absolute feast. When I close my eyes I can still see the turkey, spiral ham, green bean casserole, mashed potatoes and gravy, sweet potatoes, cranberry dressing, biscuits and, of course, the homemade pumpkin pie for dessert.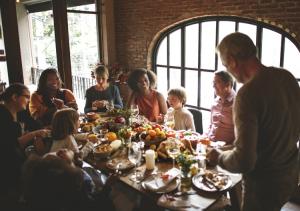 This Thanksgiving I am thankful for so many things that it's almost overwhelming (in the best possible way). I'm grateful for my wife and our marriage and the journey we've been on together for almost 15 years. I'm grateful for my son whom I have always loved and admired and who is now finding his passions and the things he's best at in a way that shows glimpses of the adult he will become. I'm grateful for my ability to write and perform music that moves and inspires people, and I'm grateful that my work in human rights education takes me to the farthest reaches of the planet to meet people I might otherwise never have gotten to meet.
I've also never been more grateful to be 
a Scientologist
. Among the countless gifts studying Scientology has given me, the most profound has been regaining my ability to simply be present in my own life, moment to moment. As I have come to realize that I am, in fact, an immortal spiritual being who can never die and who will live on into an infinite future (which in and of itself is quite a bit to get your head around!), I have also come to understand that all life is, and will ever be, is a series of moments, and that the degree to which you are able to be present in those moments and therefore in your own life is the degree to which you have a chance at true happiness and peace. And I can say with honesty, humility and profound gratefulness that I have never felt more present and peaceful in my own life, moment to moment than I am right now. And that's a direct result of my study of Scientology.
At a time when bad news spreads more quickly than ever before, it's vitally important to remind ourselves that the vast majority of people out there—literally almost everyone on the planet—would rather spend time sitting around a table of delicious homemade food, celebrating family, friends, and the good "harvest" that this year has brought, than be a part of any conflict, large or small.
And perhaps most of all, I am thankful to be part of a religion that celebrates the absolute best in every person and that gives people the tools to be more present in their own lives and in the lives of those they love.