David Miscavige: An Overview
David Miscavige is the ecclesiastical leader of the Scientology religion.
From his position as Chairman of the Board of Religious Technology Center (RTC), Mr. Miscavige bears the ultimate responsibility for ensuring the standard and pure application of L. Ron Hubbard's technologies of Dianetics and Scientology. And for Keeping Scientology Working.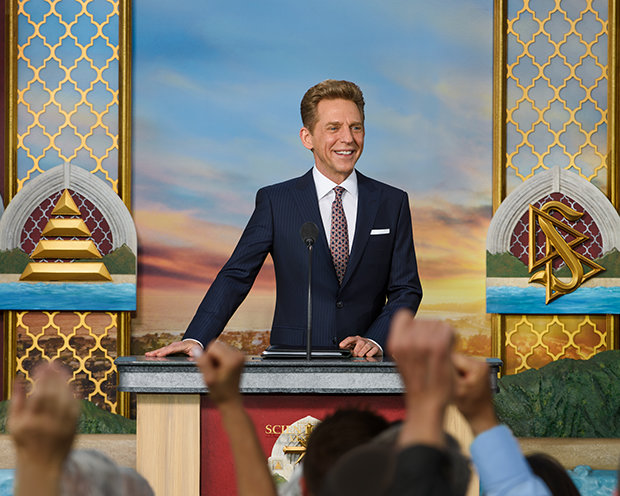 Mr. Miscavige: leader of a truly unique, contemporary religion
In fact, David Miscavige has redefined the term "religious leader." And he directs a truly unique contemporary religion. Scientology was born in the twentieth century. And the religion has achieved an unprecedented level of expansion.
Under Mr. Miscavige's stewardship
Under Mr. Miscavige's stewardship, Scientology-supported social betterment and humanitarian programs have touched the lives of billions. And Mr. Hubbard's religious works are more widely available than ever. Likewise, the Church has achieved unprecedented growth. And that growth has been both in physical size and in the reach of its ministry.
Such is the stamp of Mr. David Miscavige in fulfilling the vision. And such is the legacy of L. Ron Hubbard.
David Miscavige dedicated Scientology Media Productions
In May 2016, Mr. Miscavige dedicated Scientology Media Productions. And he described it as the Church's "uncorrupted communication line to the billions."
"So, yes, " he said at the grand opening, "we're now going to be writing our own story—like no other religion in history. And yes, we're going to be disseminating it everywhere."
It's a state-of-the-art media center. For example, it houses every form of communication from TV to internet to magazines and social media. What's more, all this is in a 5-acre fully restored studio originally opened in 1912. In fact, it is the longest continually operating studio in Hollywood.
David Miscavige Launched the Scientology Network with a Special Introduction
On March 12, 2018, Mr. Miscavige launched the Scientology Network. And he did so with a special introduction. This was recorded at the Flag Building. Since then, the Network has continued broadcasting on DIRECTV channel 320. And it streams on Scientology.tv, mobile apps and via Roku, Amazon Fire and Apple TV platforms.
"You've probably heard of Scientology," he said in launching the network. "Every six seconds someone searches the question 'What is Scientology?' There's a lot of talk about us. And we get it. People are curious. Well, we want to answer your questions.  Because, frankly, whatever you've heard, if you haven't heard it from us, I can assure you, we are not what you expect.
"So, while I could tell you Scientology is new, our approach is new, our answers are new. And that Scientology is not just something you believe in, it's something you do. Well, I'm sure you would much rather see for yourself. And that's what the Scientology Network is all about. To show you inside Scientology, who we are, what Scientology is. And what Scientology can do."
For more information on David Miscavige, visit his website at www.davidmiscavige.org. Or visit the Scientology website at www.scientology.org.