He spends a great deal of time pondering monasticism, but his wife and children don't take it personally.
Biographical Sketch
Dr. Greg Peters earned his undergraduate degree in pastoral studies at Philadelphia College of Bible in 1994 where he met his wife, Christina. In 1996, he completed his M.A. in Biblical Studies at Dallas Theological Seminary. In 1997, he and his wife moved to Minnesota to attend St. John's School of Theology, a Roman Catholic school run by Benedictine monks. There he earned a second M.A. with an emphasis in church history and a minor in monastic studies. From Minnesota, the Peters moved to Toronto, Ontario where Dr. Peters pursued doctoral work in medieval theology at the University of St. Michael's College. He graduated in 2003.
| | |
| --- | --- |
| | Greg Peters' Curriculum Vitae |
Publication Overview
Dr. Peter's doctoral dissertation is entitled "'A Treasury of Divine Knowledge and Wisdom': The Twelfth Century Byzantine Spiritual Theology of Peter of Damascus." Portions of his dissertation have been published in Studia Monastica, St. Vladimir's Theological Quarterly and Patristica et Mediaevalia. Dr. Peters' current academic pursuits are completing a full study and edition of the works of Peter of Damascus and a monograph on Protestant theologies of monasticism.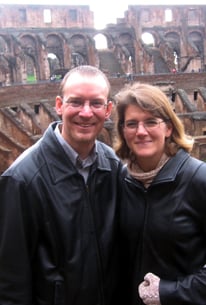 Family & Other Information
Dr. Greg Peters and his wife Christina have two children: Brendan and Nathanael. Over the years, Dr. Peters has served on the pastoral staff at three churches. Before joining the faculty of the Torrey Honors Institute at Biola University, Dr. Peters taught part-time at the Faculty of Divinity at Trinity College, University of Toronto. Currently, he and his family attend All Saint's Anglican Church in Long Beach, CA where Dr. Peters serves as an Assisting Priest. In his spare time, Dr. Peters like to play with his children, read and travel.
Teaching at Torrey Honors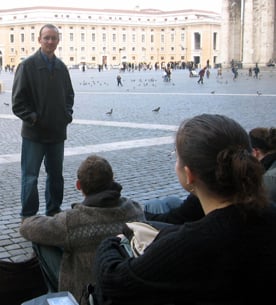 Dr. Greg Peters is a professor and medieval historian at the Torrey Honors Institute. While at Torrey Honors, Greg Peters established Torrey Rome, a two-week study trip worth four credits. Students travel and live together in Rome where they have several sessions on assigned reading, viewing Rome's great art and architecture and, if desired, making day trips to important cities near Rome including Assisi and Subiaco. Though the theme of the reading requirements differ each year, the richness of Rome's history, both Christian and pagan, is always a focus of the trip. Follow the link to find out more about Torrey Rome.
Peters' Notable Websites
BBC News: Europe
Documenta Catholica Omnia
Christianity Today
Collected Quotations
"Of this different, reformed and 'virtuous' life ('it must, it must be virtuous') he dreamed feverishly at every moment. He thirsted for that reformation and renewal."
Fyodor Dostoyevsky, The Brothers Karamazov
"…if I do not look within myself, I do not know myself."
Anselm of Canterbury,Prayer to St. John the Baptist
"Now there is nothing that ought to be more diligently learned in God's school than the study of a holy and upright life."
John Calvin, Commentary on the First Epistle to Timothy
"The worst sin in the Christian life is prayerlessness."
P.T. Forsyth
"And burn me O Lord, with a fiery zeal; Of thee and thy house, which doth in eating heal."
John Donne, Divine Meditations 5: 'I am a little world made cunningly'
"If the aim of medicine is by drugs to alleviate suffering, the question forces itself on one: why alleviate it? In the first place, they say that suffering leads man to perfection; and in the second, if mankind really learns to alleviate its sufferings with pills and drops, it will completely abandon religion and philosophy, in which it has hitherto found mot merely protection from all sorts of trouble, but even happiness."
Anton Chekhov, "Ward No. 6," V
"Curiosity in prying into high speculative and unprofitable questions is another great stumbling block to the holiness of scholars."
George Herbert, The Temple, Ch. 9
Favorite Books
Dr. Peters also thinks highly of anything by Dostoyevsky, Tolstoy or Chekhov.