"Remember, the light is always inside you. And every day, by remembering it, you feed it, and it will grow. When life is joyous, the light will be there. When there is hardship, the light will also be there." — Annie Kagan, author, The Afterlife of Billy Fingers\
Now Featured at the Patheos Book Club:
The Afterlife of Billy Fingers by Annie Kagan
What is your book The Afterlife of Billy Fingers about?
My book is a true story, a spiritual thriller that explores the greatest mystery of all, the mystery of death. It's the story of how my brother Billy contacted me soon after he died and took me with him on a two-and-a-half year journey into unexplored realms of the world beyond this one.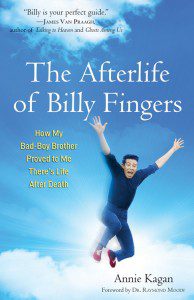 How is your book different from other books about the afterlife?
Most afterlife books are about Near-Death experiences, where the person almost dies, then returns to their body and writes what they remember about the experience. Here, Billy is talking to me in real-time as he describes the deepest regions of the afterlife.
Tell us a little about yourself. How did you go from being a chiropractor to being an author?
I had been a chiropractor living in New York City and after several years I began to feel a bit depressed from working with patients who were in pain. To remedy the situation I decided to learn to meditate, hoping it would strengthen me. But a side-effect of meditating was that I became more sensitive and now my work became even more difficult as did living in the over-stimulation of city life. Feeling like I was jumping off a cliff, I sold my practice and moved to a small secluded house on the tip of Long Island. I thought I would write songs again, something I had done in my twenties. Then, Billy died and the rest was destiny.
Who is Billy Fingers and why do you call him your bad-boy brother?
Ever since I was a little girl, Billy was my bad-boy brother. He had serious addiction problems, but to me, his good-girl little sister, he was also a glamorous figure. He was good-looking and charming and lived life by his own rules. In the last years of Billy's life, when he got caught up in his romance with the darker side, my brother took the name Billy Fingers.
How did this all begin? Tell us about your first contact with Billy. What was that like for you?
Three weeks after Billy died, it was my birthday. As I was waking up, I heard Billy calling my name from above me. At first I thought I was dreaming, but when he told me to get a notebook and write down what he was saying I knew I was awake. As Billy described the luminous divine universe that had become his world, I felt relieved that he was okay. And as the serene and blissful atmosphere of his dimension flowed into me, I felt almost euphoric.
You say in your book that you were initially skeptical that Billy was real. How did that change?
At first I wondered whether my grief over Billy's death was making me go a little crazy. How could Billy be speaking to me from another dimension? It seemed impossible. But as time went on my brother gave me proof of his existence in ways I couldn't ignore.
Your book has now been translated into more than ten different languages. Over 180,000 people from 50 countries are following you on Facebook. Why do you think Billy's message has resonated with such a diverse group of people?
From a conventional point of view Billy didn't have a successful life. He had many struggles and made a lot of what most people would call mistakes, big mistakes. People identify with Billy's not-so-perfect nature. And the compassionate and magnificent world he enters after he dies gives us all comfort and hope. Beyond that, people often tell me that they have uplifting experiences when they read the book. They feel Billy and travel along with him as he shares the secrets of death…and life.
What was the most important thing you learned from Billy about life on earth?
This is one of my favorite quotes:
"The mystery of life on earth cannot exist without the shadow element. You cannot have the sea without storms, the earth without quakes, the wind without tornados. On earth when the light rises the darkness comes with it. And sometimes darkness is okay too. Life's very temporary, so don't let time just pass. Let the moments fill you, the ones you judge to be good as well as bad.
Remember, the light is always inside you. And every day, by remembering it, you feed it, and it will grow. When life is joyous, the light will be there. When there is hardship, the light will also be there. Know that the shadow is illusory and temporary. Bliss, ultimately bliss and light, are the truer and stronger reality."