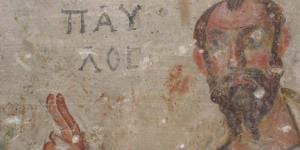 I was a pastor for 20 years, so I reluctantly participate in theology discussions.  I know enough about theology to get into conversations, but not enough to be heavily invested in winning those arguments.  I usually regret injecting myself into someone else's struggle to understand, except on the rare occasion when everyone is open and generous in their response.
I respect religion and theology as much as it is a pursuit of understanding of the Divine; but I shy away from it mainly because it tends to create arbitrary lines in the sand that close off our understanding and eventually stifle our growth and awareness.
When we say "This is how it is" at the end of our struggle to understand, we close off any hope that we will look any further down the road any time soon for clearer vision.  Subsequently, we box ourselves in with this new understanding, and history tells us that these limited or wrong beliefs can last hundreds(if not thousands) of years.  For example, the belief of genocide and slavery and violence in God's name was confirmed in Old Testament times and was only briefly challenged by Jesus and the Christian churches of the 1st few centuries, only to be reinvigorated when the church joined up with the empire (Constantine).  By the way, this is also the time that the canon was established.
Today, I posed this question on my wall in Facebook.
Why do we trust Paul more than ourselves?
The reason I ask this question goes something like this.  At some point in the 1st century, Paul made some statements.  He apparently had an encounter with God and received some revelation about the Gentiles especially.  He started some churches and eventually he wrote (or someone wrote for him) what we now consider to be a large portion of the New Testament section of the canon.  The canon was assembled by some men in Constantine's time (300 years later).  At the time he wrote them, they were mostly letters to the churches that he founded.
Some of the early fathers and mothers accepted what he wrote as important; so his writing was included in the canon, and by the 20th century, some would eventually declare his letters and the other writings of the canon to be inerrant or infallible.  The reformation fueled this with its Sola Scriptura (Scripture alone) dogma.  We started drawing lines in the sand that further boxed the church into a corner where it seems we no longer are all that inquisitive or open to new understanding.
Concurrently, the world has been evolving and increasing its understanding.  The writers of the New Testament could not have even imagined talking about the things we now are beginning to understand better.  They didn't at all comprehend mental health or shadow or things like "felt sense" and inner child.   Maybe some of these things explain what we used to think of as demons.   My own experience reflects this.  The experience in my new book called Being talks about when I had a very painful shadow experience and my journey towards recovery.  My healing was based on a process called focusing and inner child work and never once on a demon that needed exorcising.  The "demon" was the trauma of earlier parts of my life.  Paul didn't understand this, but Carl Jung did.  And I benefited from his understanding greatly!  My life has changed because of it!
We could talk for hours about new understanding.  Quantum Physics, in and of itself, opens a whole new dimension to our awareness.  I do not know enough about it to even state things correctly here, but it has the potential to create whole new horizons of cognizance – we are literally just getting started.  It is much bigger than we ever imagined, we are more connected that we thought, and we've just scratched the tip of the iceberg.  It is not that we are better than Paul or the other disciples, it is just that new understanding reveals itself every day and adds a new page to his comprehension.
If we come to understand that the things we have been discovering can be added to the theology of someone like Paul, then we may be able to better serve humanity.
If we draw a line in the sand around Paul and make him the only authority or one of the few, then we will do things like diminish one half of our population from speaking and leading us to tomorrow.
If we limit truth to only a few voices, we will never discover the truth that is trying to find us.
I think Paul is an important voice in our history, but he is not the most important or the only voice on any subject.  He can certainly hear from God – but so can we!  I know this concept is intimidating, but all adventures put a lump in our throat initially.  We must swallow hard and breathe deeply and open our hearts and minds to the future.  Wisdom calls out to us, but we silence it with our certainty.
One of the most important statements to better understanding is, "Maybe I'm wrong."
I respect Paul's right to hear and explain his understanding.  But I also respect the rights of those that understood better down the road to do the same things.  And the road does not end—it simply continues with you and I into the present and on to the future.  We can hear from God, we can make discoveries, and we can help this journey go forward authentically.
We are just as important as Paul in this eternal journey of discovery!
Be WHERE you are, Be WHO you are, Be at PEACE,
Karl Forehand
Karl Forehand is a former pastor, podcaster, and award-winning author. His books include Apparent Faith: What Fatherhood Taught Me About the Father's Heart and The Tea Shop. He is the creator of The Desert Sanctuary and Too Many Podcasters podcasts. He is married to his wife Laura of 32 years and has one dog named Winston. His three children are grown and are beginning to multiply!