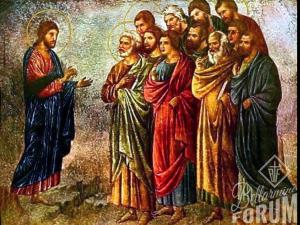 Since I usually do not quote much Scripture anymore, I won't start now. But you may remember that Jesus occasionally scolded the disciples for not understanding what he was trying to do. I'm assuming they heard most of his sermons, watched him do the miracles and observed his way and practices. But they still had a hard time putting the pieces together. Just investigate the "fire from heaven" passages for one example.
It is a frustration that most pastors feel from time to time. They study for hours researching illustrations to reinforce their points and rehearsing ways to communicate better; but people still miss the main point and generally follow their own presuppositions for the most part. They don't "get it" because their minds are generally somewhere else – usually trying to prove their own point.
It is no wonder that Jesus didn't ever really ask these people to write down the words he said or the things he did. There is no record or indication that he wanted them to record what he said or what he did. If he did tell them to write it down, it is interesting that they waited about three decades to do so and then about 300 years before some of the writing got organized into a book.
I don't want to get into an argument about the reliability of the Bible, but I find it interesting that the very people that didn't get it when Jesus actually did it are the persons we somehow find to be absolutely reliable now. I get that we have the Spirit, but we always had the Spirit and Jesus supposedly was co-equal with the Spirit and they couldn't understand it from him.
We don't have time to talk about the Scribes (who also got things wrong) that were responsible for copying and, likely, editing the text. No copy machines or printing presses in the first few centuries.
As a pastor, I never asked the guy that rarely understood the sermon to talk about it in the newsletter. I especially would not have done that after it went through the prayer chain.
Like Paul, I think the Scriptures are useful. Like Bruggeman and Zahnd, I think the Scriptures are the compost or soil out of which the Christian faith grows. It's still sacred much like other stories and writings from my faith and family. But it only creates more problems to make it something more than it is.
One of my professors taught us a hermeneutical principle once. It goes something like, "If the plain sense makes sense, seek no other sense." What he didn't tell us was the plain sense is the Bible doesn't make sense as a rule book or history book. We have to ignore much of it for it even to be a moral guide.
But it is part of our story. It is part of our saga of struggling to understand ourselves and our vision of God. It is a part of the revelation about love and grace and mercy and compassion that has been trying to reach us for as long as we've been around.
The original disciples of Jesus were about as unreliable as we are sometimes. I don't think the world paused for everybody to be infallible at the end of the 1st century and I don't think even Jesus thought writing a book would help us all that much. We could have remembered love, mercy, grace and the golden rule and possibly have avoided all the arguments about whether the rest of it made sense.
Disciple literally means "learner" and that is what I wish more than anything – that we would keep learning and growing and stretching into the future. I do not wish that we would continue the trend of trying to prove the Bible is true – what ever that means. I don't even want to come up with a fresh interpretation of the Scripture – I just want to let it be what it is–a part of our story.
Be where you are, be who you are, be at peace!
Karl Forehand
Karl Forehand is a former pastor, podcaster, and award-winning author. His books include Apparent Faith: What Fatherhood Taught Me About the Father's Heart and The Tea Shop. He is the creator of The Desert Sanctuary and Too Many Podcasters podcasts. He is married to his wife Laura of 32 years and has one dog named Winston. His three children are grown and are beginning to multiply!