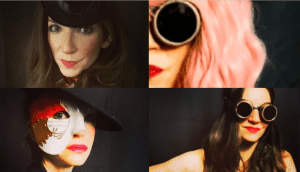 Alana Levandoski – "Ring Out, Wild Bells"
My Canadian, contemplative friend Alana Levandoski has put music to an old poem and created a masterpiece. The Steam Punk themed video is a must see. This her explanation of the song and video that is perfect to RING in the new year!
Youtube Video of the song
From Alana:
For New Years 2020. A steampunk-themed masquarade party with my brand new recording of Ring Out, Wild Bells.
In 1850, Alfred, Lord Tennyson published a requiem entitled, In Memoriam. It was his way of processing the sudden death of his sister's beloved fiancé, who was also his friend. One of the poems from this requiem, is a new year's poem called Ring Out, Wild Bells, which has for 170 years, been a popular poem to read when ringing in the new year.
This year, the year #2020, has become a hashtag for grief, frustration, and suffering. It has been very strange, and also humbling. It has also shown us the work that is ahead, and the willingness that is needed, if we truly desire a more equitable world.
I put music to this poem, because I sense at its core, a universal longing for JUBILEE. A lateral surrender by all nations and creeds, where we might meet at the place of our "common love of good".
Of course, this was published 65 years before WW1, and 89 years before the 2nd… so you might say that I and Tennyson are silly, naïve, clowns, who should just accept a nihilistic outlook and get on with it. And certainly, there is a naïveté at play… but maybe it is the way to see our truest and best selves.
Some might question why a contemplative, one who is drawn to the mystics, would be silly enough to dress up like this for a music video, but I would question the question. One of my great inspirations for making this was how the Franciscans said that jugglers were doing holy work.
All healthy cultures have sacred clowns.
So… without further ado, here is my gift to you for New Years 2020. Steampunk style was inspired by Tennyson's era, where gear and steam technology were cutting edge. My only regret is that I couldn't film one scene from a hot air balloon !
Many blessings and hope on your New Year, and if you are grieving the loss of a loved one, I offer balm, and tenderness, and embrace.
Lyrics: Alfred, Lord Tennyson
Music: Alana Levandoski
Music Video produced by: Alana Levandoski
All vocals and instruments played by: Alana Levandoski
Mixed and mastered by: Don Benedictson
YouTube Video of the song
Be where you are, Be who you are, Be at peace,
Karl Forehand
Karl Forehand is a former pastor, podcaster, and award-winning author. His books include Apparent Faith: What Fatherhood Taught Me About the Father's Heart and the soon-to-be released Tea Shop. He is the creator of The Desert Sanctuary and Too Many Podcasters podcasts. He is married to his wife Laura of 32 years and has one dog named Winston. His three children are grown and are beginning to multiply!