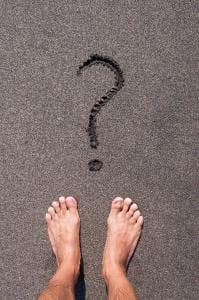 This poem is from a later chapter in my new book, Being: A Journey Toward Authenticity and Presence.
Certainty was a distinct hurdle I had to get over. As long as I clung to what I was certain about, my life would be forevermore trapped in the belief system I currently had. But, I couldn't stay there because I was beginning to doubt many of the beliefs that held that system together. To make it worse the system was sort-of broken.
When I gave up the need for certainty, I was able to explore and grow and evolve. The journey continues, but it always has at least a little uncertainty. It's because I'm covering new territory and exploring new ideas.
It sounds contradictory, but there is so much peace in uncertainty.
I can't wait for you to read this chapter in the new book. But, for now, I'll share the poem at the end of the chapter.
The new book comes out on Earth Day.
Being with Uncertainty
by Karl Forehand
Uncertainty seems like a problem,
That we anxiously try to avoid.
It seems like we need to resolve it,
And it faithfully keeps us annoyed.
Doubt also seems like a problem,
But to faith it is really a friend.
Certainty keeps us from trusting,
And trust should be the goal in the end.
Journeys can seem like a problem,
Because they lack a knowing for sure.
But journeys can be to find unknowns
And arrives at a much better cure.
Be where you are, be who you are,
Karl Forehand