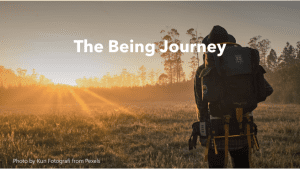 About 2 1/2 years ago, I went through what most would call a dark night of the soul. Shadow is that part of us where we put things that we cannot deal with. Eventually it comes to the surface – usually at the wrong time and in the wrong way. This experience for me was a crisis of epic proportions, but as my friend Dr. Paul Fitzgerald says:
Never waste a good crisis.
I was able to stay in a hermitage for several days and talk to some spiritual directors that guided me ultimately to a process called focusing. It was likely the hardest work I had ever done, but it led me to a path of being and becoming that has been so healing, even after the trauma that I experienced throughout my life.
But, let's back up a few steps.
I was a former pastor that certainly believed in the phrase, "don't just be hearers of the word, but doers also." I took it to heart and I believed it. It worked well in my sermons because I could mention the sign-up sheet at the end of the sermon. It also was useful in my life to motivate me to move beyond what I saw as my limitations.
Recently, I have been discovering that there is something better and beyond doing — it is being and becoming. I am learning to to be where I am and to be who I am, and it is not only liberating but empowering. All of this emerged from the shadow work I did several years ago.
Thankfully, I have documented all of this is my new book: Being: A Journey Toward Authenticity and Presence.
I hope you will join me in this experience and also find healing for your journey. The book will be released with a companion guide called: The Being Journey. It is a 30-day guide that leads a person through the focusing process, going deeper and learning to be. The three parts of the book are:
Don't Waste a Good Crisis
Going Deeper
Learning to Be
This book will be transformational for you. I cry every time I read it even though it's been over 2 years.
Release date is on: May 11th
I hope you can either pre-order or order on the release date. Will you mark your calendar or put it in your Amazon wish list? Soon after, it will be available in many different places, but it helps to make the initial push on Amazon.
I have teamed with the Shia / Sophia house, an imprint of Quoir, to release what will probably be my seminal work. I hope you will join me in this celebration and movement toward healing for so many that have experienced pain and trauma in their lives. You might even buy one for a friend if you are able.
We will be having a launch party and online book signing on May 11th. Hope to see you there and get to talk to each of you individually. Sign up for the newsletter on the website and subscribe here to stay updated. The book also has it's own Facebook page, along with my writers page.
Be where you are, be who you are, be at peace!
Karl Forehand
Karl Forehand is a former pastor, podcaster, and award-winning author. His books include Apparent Faith: What Fatherhood Taught Me About the Father's Heart and The Tea Shop. He is the creator of The Desert Sanctuary podcast. He is married to his wife Laura of 32 years and has one dog named Winston. His three children are grown and are beginning to multiply!