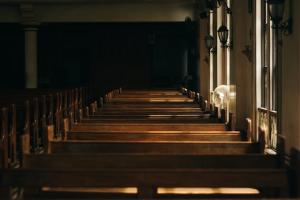 That is where we are with organized religion. It is systemically broken. There's a big problem and everybody in the room knows that it's broken. We try to ignore it. We blame ourselves and we blame others, but every time we try to talk about it, we get defensive.
This is a discussion we need to have. That is why Laura and I wrote "Out into the Desert.". We need to have this discussion about organized religion in the 21st century. The problems are growing more and more obvious everyday, but if we don't honestly evaluate it and talk about it, it won't fix itself.
During the month of October, we have made the Kindle version of our book available for 99 cents.  When we first wrote it a few years ago, we gave it away as a PDF, now we are doing the closest thing to that that we can by offering Kindle version for less than a dollar.
Please take advantage of this and share with your friends.  All we want is for everyone to do this evaluation and then have some discussions about it. If we keep bypassing our issues, they are just going to get worse.
To take advantage of the offer, click here
We wish you well,
Be where you are,
Be who you are,
Karl and Laura Forehand