Laura and I are releasing our second book, Leaning Forward on August 15th!!

Pre-Order Now!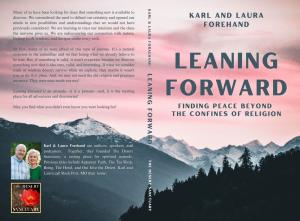 It is a continuation of our best-selling book, Out into the Desert.
Description of the Book:
Many of us have been looking for clues that something new is available to discover. We surrendered the need to defend our certainty and opened our minds to new possibilities and understandings that we would not have previously considered. We are learning to trust our intuition and the clues the universe gives us. We are rediscovering our connection with nature, finding truth, wisdom, and intrigue under every rock.
At first, many of us were afraid of this type of journey. It's a natural response to the unfamiliar and we fear losing what we already believe to be true. But, if something is valid, it won't evaporate because we discover something new that is also true, valid, and interesting. If what we consider truth or wisdom doesn't survive while we explore, then maybe it wasn't true in the first place. And, we may not need the old religion and practices anymore. They were man-made anyway!
Leaning Forward is an attitude—it is a posture—and, it is the starting place for all advent – Watch the video!
Leaning Forward Video
---
Topics Covered (250 pages)
Part I – Stories from the Desert
Listening
Common Themes
The Future.
The Pastor's Wife
Part II – Wrestling with Beliefs
New Lenses
Worship
Mercy and Compassion
Prayer
The Bible / Word of God
God's Plan for Us
Cultivated Ignorance
Parenting
Part III – Healing from Trauma
Being and Becoming
Going Inside / Trusting Myself
Doing the Hard Work – Darkness and Shadow – Focusing
Dying and Funerals
Part IV – Dealing with Religion
The Problem with Organized Religion
Thriving Outside Organized Religion
Simple Practices
Evolving Beyond Christianity
---
Bonus – email us your proof of purchase and receive a FREE study guide!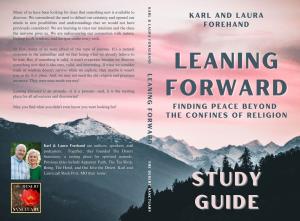 "Learning Forward" by Karl and Laura Forehand, is a beacon of transformation—a refreshing oasis amidst the arid aftermath of dry and restrictive religious landscapes. This enlightening work guides spiritual seekers as they liberate themselves from the shackles of outdated religious, familial, and cultural belief systems. Readers are invited to embrace their intuitive wisdom, unlocking the ability to decipher the subtle cosmic cues that envelop them. Leaning Forward invites readers into a profound reconnection with themselves, revealing timeless truths and illuminating insights.
(Mark Karris, author of The Diabolical Trinity: Healing Religious Trauma from a Wrathful God, Tormenting Hell, and a Sinful Self)
"In Leaning Forward, Karl and Laura Forehand lead us on a journey to deconstruct Christian assumptions down to the core—on gender, race, sexuality, people, God, and what not to say at funerals. If you are wondering if faith is more than following the religious leader (there is!), this book is for you." 
~Susan Cottrell, FreedHearts
"In Leaning Forward  Karl and Laura Forehand invite us into a conversation where it is safe to reflect on our faith in refreshingly honest ways. Page after page my reactions varied from "Thank you for saying that!" to "I need to spend time thinking about this one!" Take a seat at the table and join the discussion—from spiritual and religious practices to the deep inner work of healing, you will find many gems to mull over! "
~Janyne McConnaughey, Author- Trauma in the Pews: The Impact on Faith and Spiritual Practices