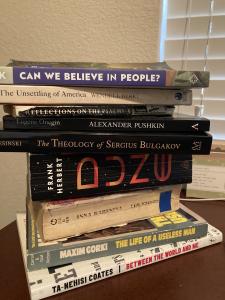 As I'm still in transition between semesters, I thought today might be a good day to include a "best of 2021" column. These are among the best theology books I read last year. Only one of them was actually published in 2021. Here they are, in no particular order.
There are others I'd like to tell you about. C.S. Lewis's book on the Psalms is a wonderful little read. I've been exploring quite a bit of eco-theology, and Ellen Davis's book from 2012 on farming in the Old Testament is gorgeous and challenging. Celia-Deane Drummond has written a sort of book of field notes with amazing discoveries of theological resonances in the animal kingdom. And it's got an orangutan on the cover. So you pretty much know you can trust it. Then there's all that Russian fiction I keep coming back to. *Sigh.* Another time.
Send me a note on Facebook or Twitter and let me know what you've been reading, or what you think I should have read last year. Thanks, as always, for reading my column.
-Tony