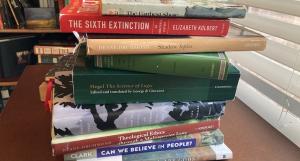 How about another list of books I've been reading?
But first…
Why Read Books?
Like many of you, I have a lifelong habit of reading. I think it's a good habit to have, though I suspect that sometimes I go after it like a shark who can't stop swimming and feeding.
My habit began as a child, reading The Boxcar Children, then sports biographies, Anne of Green Gables, anything by Lloyd Alexander, the Tolkien books, Charles Dickens. I had a goal of reading all the Newberry Award books, but at some point realized that this list, made by adults, was hit and miss for me. The characters in biographies and fantasies, though, became my friends, full of personality, "real" in the Velveteen Rabbit sense. I got to live inside the dreams and desires of Fagin and Eilonwy and Magic Johnson. I loved many things as a child. Building go-carts, playing baseball, administrating a fort with my brother and neighborhood friends. But nothing brought me more joy than reading.
As I grew older and started into theology, I of course grew more selective in my reading. But that desire to link up with the imaginative world of others only grew and evolved, it never went away. Sometimes–sharklike–I can get overly goal directed in my reading. I'll focus on finishing a book, as if that were the goal of picking it up in the first place. I've learned from my colleague Stephen, whose book ethic is "start many, finish few."  That's helped me remember why I love to read. If a book doesn't make my imagination catch fire with the dreams and desires of another, I get to put it down and pick up another.
God's Gift of Hiveminds
Reading is a way of celebrating the wild ability that humans have to share imaginative worlds. God creates us ready to love and connect and shape desires and passions that are unique to each one of us. And then God gives us language, so that we can invite others to see the course of the remarkable (painful, joyous, just, unjust) world through the eyes of others. It's one of my favorite things about being human.
So: here's what I've been reading lately.
Summer 2022 Reading
Ecotheology Books
Celia Deane-Drummond, Shadow Sophia. This is volume 2 of her The Evolution of Wisdom project, which will include one more book. This one deals with questions of moral failings in humans and other animals. I got to visit with Professor Dean-Drummond in June in her office at Campion Hall, Oxford. We discussed this project as well as her work at the Laudato 'Si Research Intitute.
Nate Blakeslee, American Wolf: A True Story of Survival and Obsession the the West. My daughter, a wildlife biology major at Texas State, recommended this one. It's a really well told tale of the reintroduction of grey wolves to Yellowstone Park. We get some good biology, find out about "tropic cascades," and also the politics of ranching, hunting, and wilderness in the American West.
Elizabeth Kolbert, The Sixth Extinction: An Unnatural History. Many of you will know this one, which won a Pulitzer Prize. Kolbert gives nonspecialists a great introduction to mass extinction events, including the science that finally came to accept that such events actually can happen (like, 40 years ago!). She travels the world, learning about frogs and penguins and the Great Barrier Reef, telling stories of the humans who care for them.
Stephen R. L. Clark, Can We Believe in People? Human Significance in an Interconnected Cosmos. Clark is one of our greatest living philosophers, and this, he says, is his last book. He's got a wonderful conversational style, so that you get to follow his curiosity as he wanders through questions like What makes us human? What is life? Could the world be meaningful, or even sensible, without a transcendent God to offer it as meaningful?
Faith after the Anthropocene, a collection of essays by Matthew Wickman and Jacob Sherman. What does believing look like in a time of climate emergency? This is close to the question of my own ecotheology project. My favorite essays here are by Sherman, Lisa Sideris, and Willis Jenkins.
Theology, Philosophy, Fiction and History
David Bentley Hart, You Are Gods: On Nature and Supernature. This is a collection of essays on the ideas associated with sharing in the being of God. (Not, as my wife was disappointed to learn, and as the subtitle might make it sound, about paranormal activity in the woods.) Among my favorite passages: "Everything all at once is God's voice. At times, God may speak in articulate language out of the whirlwind, and we long to hear him do so–revealing, vindicating, explaining, consoling. But, even when he does not, the whirlwind itself is already God speaking" (52).
Ursula K. LeGuin, The Farthest Shore. This is final volume of her classic trilogy, following the now aging wizard Sparrowhawk in his heroic ventures in Earthsea. I read the first book nearly 20 years ago and wasn't all that moved. At my sister's recommendation I reread it and finished the series. And am so glad I did. Maybe I was just ready for her somber world of magic and dragons this time around. I love LeGuin's way of telling a story as if she were a medieval chronicler, letting us know, with a cool and undramatic style, what dragons and princes were like "in those days."
Sir Walter Scott's Rob Roy. No one tells an adventure story better. This is only the second of his Waverley books I've read. Read about how much fun it was here.
Lesley Chamberlain, Lenin's Private War: The Voyage of the Philosophy Steamer and the Exile of the Intelligentsia  and Sarah Riccardi-Swarz, Between Heaven and Russia: Religious Conversion and Political Apostasy in Appalachia. I discovered in high school the rich mystery of the Russian imagination. And I haven't stopped leaning in for a closer look. Read my thoughts about these books here.
Plato, The Sophist. A wise stranger visits from Elea visits Socrates and other philosophers, and leads them in a circuitous conversation about whether it is possible to talk about nothing. All philosophical thought is just footnotes to Plato. At least, if it's any good it is.
Hegel, The Science of Logic. Thinking lives inside being itself. This was the fattest of my summer reading adventures. I'm beginning to plot out a big future project, and Hegel is part of it. You can see one of my engagements with the book here.
Books Currently on my desk/bedside table
Anatoli Rybakov, Children of the Arbat.
Abraham Joshua Heschel, The Prophets, Vol 1.