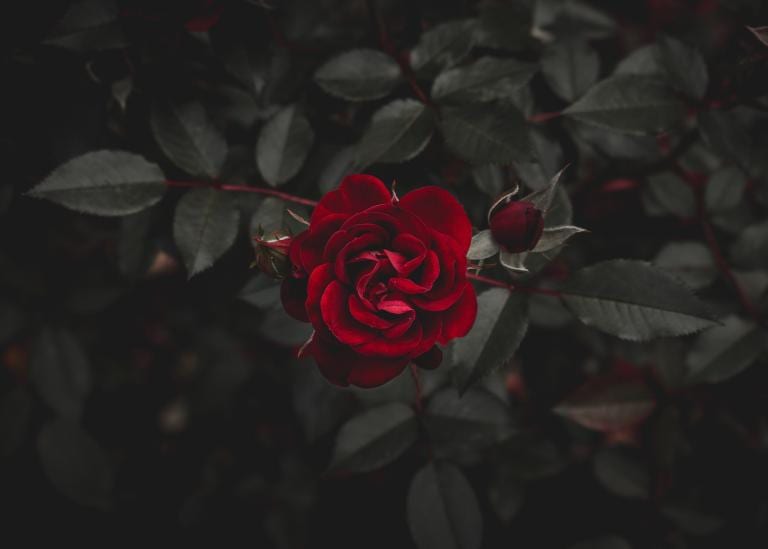 My first book, Glorious Weakness: Discovering God in All We Lack, comes out in two weeks. Most mornings find me nestled with my laptop gazing out the window at the silver morning as I work to tell people about it.
I believe in the message of my book and the stories it contains. I believe we need to know God's goodness, especially when life feels like it's anything but good. We need the reminders, our gospel on repeat. Christ crucified. But there's more to it than that.
I wrote about lack, about what it means to be poor in spirit, about what it means to need and how God meets us in our weakness.
I have a glorious launch team I've asked to support this message, but it also feels like I am asking for them to support me. To endorse me. And this has the potential to unearth a million insecurities.
Identity is such a fragile thing, we often look for our significance in a million wayward places. It's easy to be swayed by the ones we assume have more answers. Who have it together. Who have the perfect body, or ministry, or children, or marriage, or job. The perfect life.
I am the girl who loved words and collected them like breadcrumbs to find my way home, the woman who let her story unfurl in the hand of God and tried her best to believe her weakness didn't disqualify her from being used and loved by God. I often find myself among bestselling authors, professors and professionals, preachers and organizers and I want to cower. I've felt like an imposter and I've wondered if someone will discover I have no idea what I'm doing.
I have no credentials to speak of. I am a high school dropout who got her GED. I am a fat multiracial woman who struggles with mental illness and finances. I have 17 teeth left. I have a chronic illness. I don't have much to commend me. I have spent much of my life lacking all the necessary things to be pleasing to God in North American church culture.
I have spent my life in constant need of a Redeemer. I write from the threshing floor but God continues to lift my head.
Sometimes, I want to pretend I'm not weak. That I have it all together. That things are going well. But the reality is surviving bipolar disorder means my mind often betrays me. Sometimes my thoughts are jumbled, sometimes the words don't come, they're thick and clunky and I'm suffocating under the swell of them as I try to push them out into the world. Sometimes my hands tremble and my heart shakes from the medications I'm on. Sometimes I am ill. Sometimes my body betrays me in a thousand different ways.
Sometimes the heavens bring snow. A week into my book launch, my husband told me he would be laid off because of the snowstorm that clogged roads and shut down businesses. He's a painter and the other contractor's delays pushed everything back like the snowplows trying to clear a way forward. So there will be work, but not yet. Again, we wait for provision with nothing more than hope.
I spent the morning responding to requests for podcasts and articles. I will sit in interviews with people and talk about the message of my book and I will not be on the other side of it. It is not a testimony of how I struggled and how I was sick and how I lacked and then God met me and now I can tell about it all in retrospect. My weakness remains, as does God's strength.
Instead, it is a story of God's faithfulness in the current of my tidal storm. The back and forth, ebb and flow of struggle and suffering and blessings that look a lot less like answers than they do the peace and presence of God which passes all understanding.
For publicity, I'll fly on my publisher's dime, but I also filled out unemployment claims this morning and wondered how God will be faithful this time.
People that don't know better think because I am a published author, I must be rolling in dough. (Insert laughter from all of my writing friends who know the reality of a writer's life.)
I look at our bank account balance and wonder how I'll pay for my medications, for doctors appointments, for a roof over our head or gas in our tank when we're already so far behind.
I have a contract in place to record my audiobook and while I'll be paid for my time, I won't be able to invoice it until all the work is done. Maybe a month or two at the earliest. But I have to travel there next week. I looked up hotel costs and thought about the gas tank that is close to empty and I imagined myself sleeping in a van down by the river. Here I am, a published author, but I can't afford to travel 4 hours away. When Josh had work, I knew it'd be tight but I'm low maintenance and knew we could make it work. But I couldn't make it work now.
I was forced to ask for help. I am still bad at this. I wrote 52,000 words about weakness, poverty, and lack but two tweets asking for help had me nursing a severe vulnerability hangover. I write about how we need each other but after I tweeted asking for help, I felt physically sick. I thought people are going to think this is ridiculous. I am asking for money for gas and a hotel. This isn't a real need. But it was. It was my real need. And I couldn't meet it myself.
I realize I only want God to provide. I don't want to ask people to step into my need. I want manna from heaven but not from my neighbor. It's complicated but maybe that's why I'm in this position. I'd rather do without than ask and risk being judged or denied.
Sometimes I wonder if I am strong enough to live the life God has called me to.
This is my thorn, I am pierced among the beautiful and blossoming perennials and despite my pleas, God has chosen for it to remain. Can I still flourish if I am never healed? Can I flourish if we continue to struggle? If around every corner is another detour, another devastation? But the Bible says, "the message of the cross is foolishness to those who are perishing, but to us who are being saved it is the power of God."
Within hours the money for my travels came in. There were some big donations which I was so thankful for. But the thing that had me reduced to tears was the ones who gave $5 because that's all they could manage on a student's budget, or on disability payments, or on a tight retirement. They gave from their own lack and it was enough. It was everything. The beauty of loaves and fishes, of two mites, of the willing and obedient heart, is so glorious it makes me weep at the tenderness of God.
I am being saved, moment by moment, Jesus comes for me. He meets me in the darkest corners of my mind. He meets me in a kind psychiatrist. He meets me in the incredible gift of sharing with you guys. And being met. Jesus meets me as I face the rising dawn and pour out the words given to me.
Sometimes people who have yet to know Jesus, look at my life and they wonder how I could claim a good and loving God. It is indeed foolish naiveté to them. But to me, who is being saved, it is the power that keeps me moving forward with confidence.
I count myself among the foolishness of God, the ridiculousness of the Cross.
The message of Christ crucified is a stumbling block because I have done nothing to earn his tender mercy. I proclaim God's goodness, fluent in the language of hope because Jesus comes for me again and again and he doesn't waste a thing. Even $5.
The burden hasn't lifted completely but we're carrying it together. I lack human strength but I have come to know even the weakness of God and his abundant grace is all I need.
I walk in the garden barefooted and unashamed even when the thorns remain. It is beautiful. It is weakness at its most wondrous form. Strength.
For the message of the cross is foolishness to those who are perishing,
but to us who are being saved it is the power of God. For it is written:

"I will destroy the wisdom of the wise;
the intelligence of the intelligent I will frustrate."

Where is the wise person? Where is the teacher of the law? Where is the philosopher of this age?
Has not God made foolish the wisdom of the world? For since in the wisdom of God the world through its wisdom
did not know him, God was pleased through the foolishness of what was preached to save those who believe.

Jews demand signs and Greeks look for wisdom, but we preach Christ crucified:
a stumbling block to Jews and foolishness to Gentiles, but to those whom God has called,
both Jews and Greeks, Christ the power of God and the wisdom of God.
For the foolishness of God is wiser than human wisdom,
and the weakness of God is stronger than human strength.
1 Corinthians 1:18-25 NIV