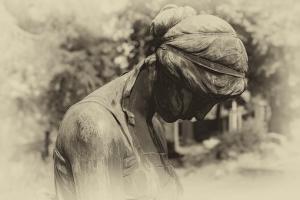 The Good News for the Day, September 14, 2022
Tuesday of the Twenty-fourth Week of Ordinary Time (492)
The Gospel
Once when Jesus traveled to a town, Nain, his students and a large throng of people were with him. As he was coming up to the gate of the city, a man who had died was being carried out—the only son of his mother, herself a widow.
A large crowd from the city was accompanying her.
When the "boss" saw her, he was so moved with compassion for her that he said to her, "Don't cry!" He stepped out in front of the crowd and put his hand on the bier. At this the pallbearers stopped.
He said, "Young man, I tell you—get up!"
The dead man sat up and started talking; Jesus gave him to his mother. Amazement gripped everybody. They were giving God credit, saying things like, "A great prophet has arisen among us," and "God has visited his people." This news and His reputation spread throughout Judea and into all the area around it. (Luke 7)
Reflections of the Word of Jesus
No request comes to Jesus here. As it will be in the story about the raising of Lazarus, Jesus comes too late to make a difference. A man has died. Death is final.
Or is it?
A basic truth among those of us who follow Jesus is that there is a life beyond this one. A whole world exists beyond this one. In that realm loss of death is not only understood – and forgiven! – but simply embraced as part of life.
You and I live partly in another dimension. A person without faith has no idea that world – that dimension – exists. Others may live to find security through money. Others work to be healthy through medicine – until they die. Some dismiss prayer as mere words addressed to an illusion – that is how they see the world. We are different.
Those of us adults who have suffered the loss of someone we have loved for a long time feel grief. The grief is authentic and sometimes terrible. But love is greater than death, we believe. This young man rises with the love of both Jesus and his mother.
Perhaps the Kingdom of Heaven is like that nearly infinite universe of stars out there that humans had no idea existed until Galileo came up with the telescope. Now we see!
In some ways, those of us who follow Jesus might think of faith as the "Webb telescope" that enables us to see in this incident something more than history, science, or illusion. We see the vast and different world Jesus does. This incident just shows how love raises our dead into God's mysterious eternity where the dead still live with us. We treasure them through that love which they left us as their permanent gift.
The Important Here
People of faith see this event not as history but as mystery.
Like the people there, we turn not to Jesus but to God our Creator. We acknowledge the mystery of God pervading our lives in Jesus. Not for others, but for us, life and death mean something different. We are comforted. We appreciate the love of God for those we have loved – not just for ourselves, but for all the children of God living and dead.