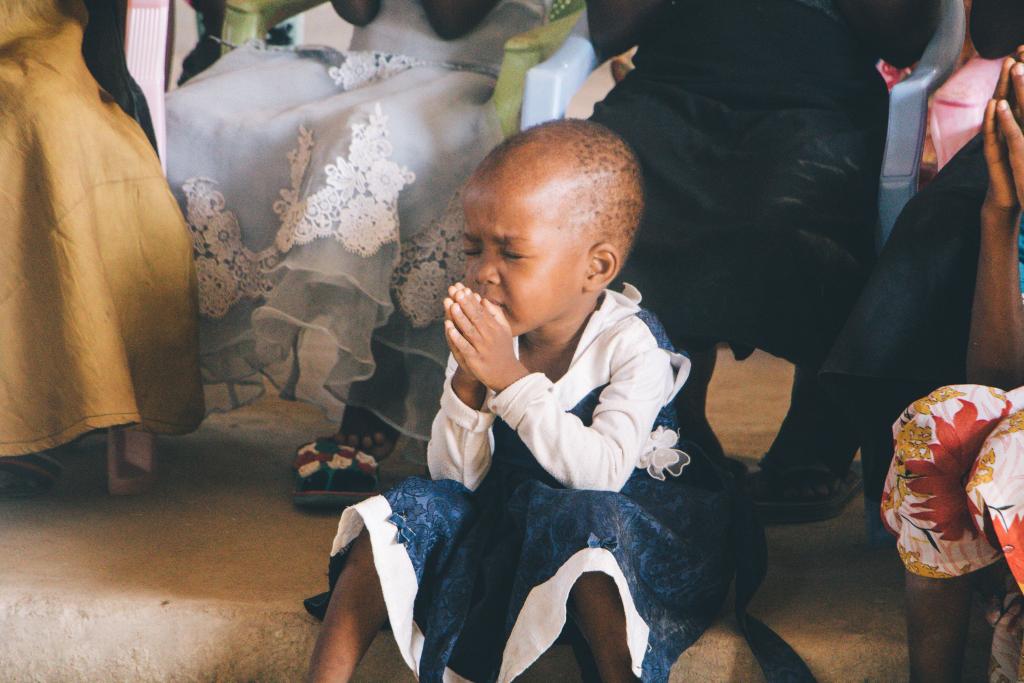 Source: Bintu Malu for pexels.com
"The only refuge of a Christian is courage" – Father Cyprian Michael Iwene Tansi
I've been thinking about this quote from Father Cyprian a lot lately. With the pandemic, so much racial violence, and the nasty political campaigns, it would be nice to have a refuge, a place to hide until it all blows over. Isn't that what we all want in this disaster of a year?
But, I don't think that's what Father Cyprian is saying in this small bit of wisdom. Rather than speaking of a hiding place, a place to hide from pain, I think what the good priest means is that we must face the pain head-on in difficult times. By doing this we will find peace, the refuge that he calls courage.
Let's dig into this a little more. As Catholics, we are so accustomed to viewing times of suffering through one of two lens:
the one with which I was raised as a Midwestern farmer's daughter, that is "pull yourself up by your bootstraps and suck it up" (or "offer it up")
the one that I always thought was a little too tidy for my own life, that being "just give it to God and let him take care of it all"
We're being told both of these messages today, from the radio, the pulpits, the commercials, from our families and communities. I see Father Cyprian's words as a third lens.
We are being challenged to find peace in facing our fear and pain, which requires an open heart.
The first lens is a closed heart – just grit your teeth and do it yourself. The second lens, though well-meaning, is also a closed heart because it's avoidance masked as faith – this is God's responsibility, not mine. The third lens asks us to bravely turn toward, rather than away, from our pain, and there is where we find God and his grace, his refuge.
As we, both individually and as a country, struggle through 2020, hopefully we may find the grace to live this out. I know in my own life, I'm learning how to look at my own ingrained racism and face it, rather than deny it. I'm learning how to work through my mental and physical health difficulties, rather than ignore or numb them. I'm learning how to recognize when I'm being judgmental of other people, rather than congratulate myself that I'm not "this" or "that".
I encourage the readers to see this third lens in the lives of the saints I present below. I've included religious, priests, single people, and married laity, all people of African descent who the Church has decided are worthy examples for us. There are several better-known saints from Africa, notably Josephine Bakhita and Charles Lwanga. However, I wanted to find new friends, friends who are perhaps in the background and deserve to be in the forefront of our minds.
For anyone interested, I previously wrote about black saints from America here.
Enjoy meeting some new friends in heaven!
Blessed Lucien Botovasoa 
(1908 – April 14, 1947) 
Lucien died as a martyr during a time of upheaval in Madagascar. He grew up in a large family as the oldest of nine children and converted to Catholicism as a young child. After completing his studies at a Jesuit college, Lucien became a teacher and married Suzanna Soazana in 1930. The couple had eight children together, although only five lived to adulthood. He was involved in his parish and served as the director of the parish choir. Later on, Lucien even became a lay member of the Secular Franciscan Order. Although his wife was concerned that he would leave her to become a religious, Lucien laughed and assured her that he was completely devoted to his marriage and vocation. Because of his popularity with the people, a local political party in 1947 asked Lucien to become a candidate, but he declined. When violence broke out during Holy Week, Lucien refused to hide despite knowing that religious people were being targeted. On April 14th, he was judged by the local chief and sentenced to death. Lucien spent several moments in silent prayer before he was led to a river and beheaded. 
For more information about Lucien.  
Blessed Marie-Clémentine Anuarite Nengapeta 
(December 29, 1939 – December 1, 1964) 
Anuarite was born into a non-Christian family in the Democratic Republic of Congo. She decided to become a Catholic along with her mother in 1945 and chose Alphonsine as her Christian name. When she expressed interest in religious life, her mother disapproved, forcing Anuarite to become creative. She snuck away without telling her mother and entered the order of the Sisters of the Holy Family. Again, she took a new name, this time Marie-Clémentine, as a religious sister in 1959. Anuarite worked hard in the convent as a teacher, cook, and sacristan. Unfortunately, her peaceful and happy life came to an end in 1964 when a rebellion broke out in her country. The rebels opposed any Western influence and were suspicious of anyone who could be cooperating with foreigners. This included many Congolese priests and religious sisters. On November 29th, Anuarite and her fellow religious sisters were captured and loaded into a truck by the rebels. She died on December 1st after warding off rape attempts by Colonel Olombe who finally shot her. 
For more information about Anuarite Marie-Clémentine. 
Blessed Cyprian Michael Iwene Tansi 
(September 1903 – January 20, 1964)
Father Cyprian was born Iwene into a poor Igbo family in Nigeria in 1903. Iwene's father sent him to a school run by the Holy Spirit Fathers, which introduced the boy to Catholicism. Iwene became Catholic in 1913, taking the Christian name Michael. Upon graduating, he worked as a teacher until 1925. The priesthood at the time was mostly European in Nigeria, and although African men could become priests, they were often treated harshly by the Irish bishop. Despite the hostile atmosphere, Iwene chose to attend seminary and was ordained in 1937. He also chose to live very simply as a priest, building his own house using mud bricks, eating the plain food of the local people, and walking or riding a bicycle when ministering. This austere priest became very popular with the people he served. Iwene's ministries included advocating for women who were often mistreated in the traditional culture, preparing couples for marriage, building homes for people, and organizing community efforts for the poor. He later became attracted to monastic life and joined the Trappists in 1950, taking the religious name Cyprian. Father Cyprian entered the monastery of Mount Saint Bernard in England and lived there until his death in 1964. 
For more information about Cyprian. 
Blessed Ghébrē-Michael 
(1791 – July 30, 1855)
Ghébrē-Michael was born in Ethiopia at a time when most Christians in the country were not Catholic but Orthodox (Coptic). He was educated at a monastery and in 1813 became a Coptic monk. While on a pilgrimage to Jerusalem in 1841, he met the Italian Catholic bishop Giustino de Jacobis. The two became friends and had many conversations about the faith, which led to Ghébrē-Michael becoming interested in Catholicism. In February 1844, the monk was received into the Church, but secretly because his home country was hostile to Catholicism. Six other Coptic monks followed his example and became Catholic. Several years later, de Jacobis asked Ghébrē-Michael if he'd ever considered the priesthood since he'd never chosen ordination as a monk. Ghébrē-Michael finally felt the peace he'd been seeking all of his life in pursuit of the Truth and was ordained a priest in 1851. Sadly, just as he prepared to enter a religious order (begun by St. Vincent de Paul), he was captured by Ethiopian authorities upon returning to his home country. Ghébrē-Michael, along with de Jacobis and several other monks, were put under intense pressure by the Coptic bishop to give up their Catholic faith. They held firm, however, but were tortured for converting. Ghébrē-Michael eventually died from ill treatment in 1855. In a letter to the superior general, De Jacobis asked that Ghébrē-Michael  be counted a member of the Vincentian order although he'd never made final vows. He was beatified in 1926. 
For more information about Ghébrē-Michael. 
Blessed Isidore Bakanja 
(1887 – August 15, 1909)
Although he died at a young age, the testimony of Isidore's life made a big impact on the Church in Africa. Isidore was a member of the Boangi tribe in what is now the Democratic Republic of Congo. He converted to Christianity at the age of 18 after receiving instruction in the faith from Belgian Trappist missionaries. He became very devoted to the Virgin Mary and showed this devotion through the rosary and the Brown Scapular of the Carmelites. He loved to share his faith with whomever would listen and taught many others how to pray. In order to support himself, Isidore worked as a manual laborer. While working on a plantation, one of the supervisors spotted his scapular and angrily ordered the young man to remove it. Isidore refused, so the supervisor flogged him repeatedly. Isidore finally died from his injuries sustained by the beating in 1909. Almost ninety years later, he was beatified by fellow Carmelite, Pope John Paul II. 
For more information about Isidore. 
Blessed Julius Nyerere
(April 13, 1922 – October 14, 1999) 
A very modern saint, Julius is better known as Tanzania's first president. Julius Kambarage Nyerere was born in 1922, one of twenty-five children born to the chief of the Zanaki people. He grew up in his people's traditional polytheistic beliefs and assisted in farming and animal herding in the close-knit community. While attending school some distance from home, he was exposed to Catholicism by the European missionaries, called the "White Fathers". Julius' father died in 1942, and his brother was appointed as the tribe's new chief. At this time, Julius decided to convert to Catholicism and took the name Julius in addition to his tribal name. Months later, he began attending college in Uganda and helped establish a branch of Catholic Action there. Julius returned home to his widowed mother after graduating with a degree in education. He spent his time farming before taking a teaching position at a mission school. Julius met fellow Catholic teacher Maria Gabriel whom he married in 1953. Together the couple had eight children. While teaching, his interest in politics led to him heading a nationalist movement pursuing the end of colonial rule. He ultimately led the movement to victory in elections and oversaw a smooth transition to independence in 1961. Several years later, he facilitated the integration of bordering territories into the modern state of Tanzania. As president of the country, he implemented a new form of socialism called "ujamaa", which attempted to blend elements of Catholic social teaching with the traditional community of his upbringing. Although Westerners considered him controversial, Julius' faith continued to sustain and guide his life until he died from leukemia in 1999. 
For more information about Julius.
Blessed Maria Giuseppina Benvenuti
(1845 – April 24, 1926)
Blessed Maria was born with the name Zeinab Alif in Sudan. At a young age, she was kidnapped by slave traders. Thankfully, she was rescued by (Servant of God) Father Niccola Olivieri who worked to free Africans from slavery. Zeinab and several other former slaves were entrusted to the care of the Poor Clares of Belvedere Ostrense in Italy. She was baptized at the age of ten and chose to enter the order in 1876, taking the name Maria Giuseppina Benvenuti. She was called "La Moretta" ("The Black Girl" in Italian) by the other nuns because of her dark skin. Sister Maria soon found that she had a gift of music and became an accomplished organist. Later in life, she was moved to a different convent and eventually named the abbess of that community. She died there peacefully in her 80's. Her grave at Serra de' Conti, Italy, remains a place of pilgrimage and prayer. 
For more information about Maria.
Venerable Teresa Chikaba 
(1676 – December 6, 1748) 
Teresa was born in West Africa (probably what is now modern-day Guinea) as a princess with the name Chikaba. She was kidnapped at the age of nine and sold into slavery by Spanish sailors. When dictating her life story to a priest shortly before her death, she confessed that she could remember little details of her life prior to being enslaved. Shortly before she was shipped off to Spain, she was baptized and renamed Teresa. In Spain, a wealthy noblewoman bought Teresa and put her to work as a house slave. Because Teresa was favored by her mistress, the other servants treated her cruelly, even beating her at times. However, Teresa continued to work hard and even began imitating her mistress' prayer life. When her mistress died, Teresa was released from slavery and even provided a dowry to enter a convent – per the noblewoman's wishes. However, no convent would accept Teresa due to the color of her skin. Finally, an order of Dominican nuns in Salamanca accepted her. Teresa was excited to begin this new chapter of her life, but the bishop only allowed her to become a maid for the order – again, due to the color of her skin. The bishop eventually relented and allowed her to take vows, but she had to remain a maid for the other nuns. Despite this, she accepted her life in the convent and became known over time as a healer and miracle worker. Her funeral drew hundreds of people who had heard about her reputation for holiness. 
For more information about Teresa.
Servants of God Cyprien Rugamba and Daphrose Mukasanga Rugamba
(1935 – April 7, 1994) and (1944 – April 7, 1994) 
Cyprien and Daphrose were a married couple from Rwanda who were very influential in their country's Catholic community. Married in 1965, the couple had ten children together. Unfortunately, their marriage struggled due to Cyprien's extramarital affairs, which resulted in one child born out of wedlock. Through it all, Daphrose continued to pray for her husband and focused on raising their children in the faith. Finally, in 1982 he had a major conversion experience after miraculously recovering from a serious illness. With newfound zeal for his faith and marriage, Cyprien became a new person, attentive to his wife and family. The family moved to Rwanda's capital city where they established a center to feed and educate street children. There, Cyprien and Daphrose encountered the Emmanuel Community through a volunteer group. The Rugamba's decided to start their own group of the Emmanuel Community in Rwanda in 1990. While this group became a place of refuge during Rwanda's growing political tensions, it couldn't prevent tragedy for long. Cyprien and Daphrose spoke out against the tribal conflicts between the Tutsi and Hutu tribes and welcomed everyone to their community. Cyprien even advised the president to not provoke ethnic conflicts, which resulted in the Rugamba's being placed on a hit list. On April 7th of 1994 the couple and six of their children were ambushed and killed after spending the night in prayer.
For more information about Cyprien and Daphrose.
It is important to note, however, that the history of Christianity in Africa is much more than the snippet I've highlighted from these lives of holiness. Please consider reading this article from the BBC that gives a more in-depth picture of that history. All you holy men and women of Africa, pray for us!
Photo credit: Binti Malu for pexels.com