John currently has three published works found here:
The Christian Truth of the Pagan Gods  (Order Here)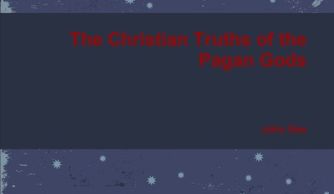 Christian Truth's of the Pagan Gods takes an unflinching and honest look at what it means to be a God, and also asks, could the ancient gods actually exist within the scope of Christian Theology? It also challenges Christians in their dealings with all believers, and provides some good reasonings why Christianity is a logical option and worldview. The text also challenges Christians to examine their interactions with non-believers as they work out their faith.
Unlikely Likely, The Story of Bishop Brothers: (Order Here)
This is a story about a movement. A real life story of how a white and black pastor from different points of view see the world as it is and as it could be. The authors face many of the great questions that are dividing our country and our churches in a way not seen since the Civil War. This book strives to show the modern church what is possible when people just talk and listen. From the Kaepernick Controversy to sexual assault in the church, The Bishop Brothers bring two points of view to some of the most difficult questions facing the church and our society today. To read this book, you need to be comfortable being uncomfortable!
His third book, Timeless Theology can be ordered here
The Celtic peoples of the British Isles held a very unique and deep Christian faith that carried with it a deep cultural history and love for God and creation. This book looks at the modern western beliefs of the Christian faith and views them through the eyes of the ancient Celtic believers to bring an ancient eye to the theological stances of the modern church.
Johns newest book! order here
His podcast can be found here:
Thoughts of a Modern Celtic Wanderer