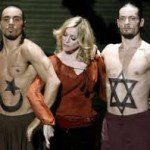 I'm reposting this column from a few years ago in memory of Rabbi Phillip Berg who passed away last week. Berg may be best known as the man who introduced Madonna, and several other big name celebrities, to the Jewish mystical tradition of Kabbalah. (After his death, Madonna paid tribute to Berg saying: "I learned more from him than any human I have ever met.")
It is said it can takes decades of study to truly understand Kabbalism which helps explain why Berg was often criticized for presenting to his followers what has been called Kabbalah-lite. Yet, Berg succeeded in introducing the main tenets of this tradition to a vast audience, writing books and founding the Kabbalah Center of Los Angeles, which now has locations in 40 cities worldwide.
 A number of years ago, wondering what all the fuss was about, I read several books on Kabbalah by authors that included Phillip Berg, his son Micheal Berg and the scholar Daniel C. Matt. I found Matt's book, "The Essential Kabbalah", to be the most rewarding and it resulted in the column below. Perhaps this short tract will persuade you to learn more about this compelling mystical tradition.
One of the more daunting religious traditions I've ever studied is the ancient Jewish mystical teaching known as Kabbalah. According to Wikipedia, Kabbalah's purpose is to "seek to define the nature of the universe and the human being, the nature and purpose of existence." Sounds like it could be straightforward, but it's not.
Reading translations of the Kabbalah texts, or even books about the tradition, is enough to make your head spin. The language is dense and the concepts difficult to comprehend. No wonder, it's been said that mastering the lessons of Kabbalah can take decades.
Fortunately, I found a nifty short cut in the form of a book by the scholar Daniel C. Matt called The Essential Kabbalah. Matt has studied Kabbalah for decades and condenses his knowledge into 163 generously spaced pages.
For our purposes, I've gone a giant step further and cut the text down to a few hundred words, focusing on the subject that interests me most—communing and communicating with God. So consider this the polar opposite of a comprehensive look at Kabbalah. It's more of a snapshot—or a snapshot of a snapshot.
Note: the words in italics below represent author Matt's translations from the ancient texts and feature my favorite passages. I've grouped them under three main themes.
Where to find God.
When you contemplate the Creator, realize that his encampment extends beyond, infinitely beyond, and so, too, in front of you and behind you, east and west, north and south.

Be aware that God fashioned everything and is within everything. There is nothing else.

All your physical and mental powers and your essential being depend on the divine elements within. You are simply a channel for the divine attributes.
Preparing for God.
Select a special place where no one in the world can hear your voice. Be totally alone. Sit in one spot…and do not reveal your secret to anyone.

As you prepare to speak with your Creator, to seek the revelation of his power, be careful to empty your mind of all mundane vanities.

If it is at night, light many candles, until your eyes shine brightly.

If you wish your intention to be true, imagine that you are light. All around you, in every corner and on every side, is light. Up above, is light.
Receiving God's Guidance.
Interpret what you hear in an uplifting manner, approximating it as best you can.

When you see that you have achieved a little, concentrate more deeply in your meditation, until you experience a pure spirit speaking within.

Search and discover the source of your soul, so that you can fulfill it and restore it to its source, it essence. The more you fulfill yourself, the closer you approach your authentic self.

In the end, the Blessed Holy One will guide you on the path that it wishes and impart holiness to you. You are walking in the presence of God while being right here in the world. You become a dwelling place of the divine.