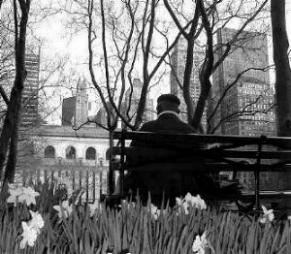 His name is Johnny and in his daydreams we meet regularly in Washington Square Park, not far from where I work in New York City. He spent a few months in the city in 1968 and has fond memories of his visit. But, this being 2014, we actually meet online. Johnny commented on one of my Wake Up Call columns several months ago and we took the conversation offline. Since then, we have been communicating almost daily  via e-mail.
Johnny is an ex-Angeleno; he lived there for the first three decades of his life. He served in the Army during the Korean War, guarding high-profile prisoners of war. But when the 1960's came, like many Americans, he became disillusioned with our country and headed for Europe. He got married, had a child, and settled in the French countryside, an expat living in a small village in Isère.
At 85 years old, Johnny is full of piss and vinegar and I mean that in the best possible sense. He is passionate about God and religion and life. He cares deeply about the state of mankind and where we are headed, as evidenced by this passage from a recent e-mail:
God has been taken out of our world of today. The feelings of humility, kindness and brotherhood of the past have also disappeared. Our individual world has collapsed where we no longer know or even care for our neighbor. They have been thrust out and the unknowns have become our obsession.
Johnny has a good heart and much wisdom to share. I've been collecting his thoughts via the e-mails he sends me, letting him know I would one day share his ideas with his fellow Patheos readers. And since he is beginning to think he may not have much more time in this life, I thought it an appropriate time to write this post.
I have written in the past how everyone has their own personal spiritual story. This is your story Johnny, my soul brother in France. I have lightly edited and organized your thoughts and hope I have done them justice. May we one day meet on that park bench in Washington Square Park, if not in this lifetime, in the next.
Life Wisdom from Johnny of Isère.
I am a peaceful man and love mankind as well as all other creatures that inhabit this planet of ours (except for crocodiles, hyenas, flies and mosquitoes).
Being a peaceful man I do not like violence, meanness, arrogance, jingoism, pretentious fools, know-it-alls and all the other ugly traits of our species. I greatly respect those who are humble and caring, people with love and respect for our fellowman.
I believe in something beyond us, something metaphysical, something that you and I and those like us believe. I believe in the goodness of Man and that he can be good and can be beautiful. 

If God does exist, he has nothing to do with organized religions whose sole purpose is for their self-interests. They do not speak for him!
This true feeling of God that you search for and commune with is yours alone. You feel it personally. You believe in him and commune alone with him like the Buddhist and all the many others who have this feeling for an omnipotent power.
You pin your hopes on the existence of the God of Abraham whereas I place mine elsewhere—perhaps, in the unknown, or as Rod Serling said, in The Twilight Zone. But we both believe in a mystical force.
This higher power is like the sun, it feeds us, helping us to grow, making us feel good, causing us to want joy for all. It is this undying hope that feeds our eternal belief in God.
The beauty inside you is what will lead you. If God is there, He will smile down on you and your family. It will be your own belief in Him that is of importance. Your beauty is because of Him and your belief in Him.
It is a respect for something or someone outside of our little personhood that is important, something above and beyond our egoistical selves. It is a humbling force that keeps us respectful of earth, of nature and of all life living on this planet.

Concentrate on your own life and your own family and friends—that is your only world of importance—the rest, we are at the mercy of the fools that lead us, God have mercy on us!
We are part of those who believe in a better world without searching for metaphysical reasons to support our natural instinct. God gave us the power to do this on our very own. Let us stop blaming Him, asking Him, crying to Him! Let us, you and I and other sane persons plant our own trees.
The song from John Lennon says it beautifully; "You may say I'm a dreamer, but I'm not the only one. I hope someday you'll join us. And the world will live as one."