When I come into New York City to go to work each day I usually walk a mile from Port Authority to my office on the east side of Manhattan. But, when it's precipitating or I need to shave a few minutes off my commute, I head underground to the NYC subway system, specifically the 7 train.
To get to the 7, I pay my fare and walk a few hundred yards down a wide tunnel where I pass throngs of people of all colors and nationalities. It is the United Nations of subway lines and reinforces the idea that we are truly a nation of immigrants. But most interesting to me is that most days I spot men and women promoting their own version of the spiritual truth.
The most obvious are the subway preachers, calling out to all who pass in their Hispanic or Caribbean-flavored English. There is one passionate fellow in short and tie who stands out. A worn bible in hand, he moves swiftly from person to person, side-stepping 10 feet to the right, then to the left. He implores each one he can reach to "find the Lord Jeeeeeezus, he is your salvation", and says it as if he believes it is the key to his own salvation. And maybe it is.
There are the mostly African-American Jehovah's Witnesses, always dressed in their Sunday best. They solemnly stand by their portable carts of religiousmagazines and books. They do not preach but it appears they are available for counsel and I wonder if their advice is filtered through their belief that the end of the world is imminent, that God's kingdom is near at hand.
Then there are the pairs of well-scrubbed, smiling 20-somethings, dressed like young professionals. They pass out postcards invitations to a free showing of Dianetics, The Story of Book One. It's "the film about the book that started it all", the all being the Church of Scientology. What's with these kids I wonder, have they not seen Going Clear? They always appear to be out-of-towners, probably new to the city, looking for a place where they can fit in and this is it.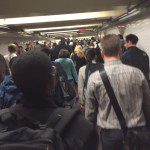 On more than one occasion, I have seen the flip-side of the Dianetics kids, middle-aged men who look like they have led hard lives, handing out religious pamphlets from the shady Tony Alamo Christian Ministries. Yes, the same Tony Alamo who was convicted in 2009 of being a child sex offender for having underage brides in several states. He is now serving 175 years in prison, yet somehow his ministry
lives on
.
Perhaps most puzzling to me are the two elderly, Asian grandmother-types who I see every few months. They hand out the same pamphlet with a message that seems contrary to their always smiling faces, warning (in all caps) to "NEVER RECEIVE 666, THE MARK OF THE BEAST". I am aware this is pulled from a biblical prophecy in Revelations, but this brochure has given it a modern-day twist.
It seems that as part of the upcoming "cashless society", the "global government" will be implanting microchips into the back of our hands. These chips include some sort of bar code that contains the number 666, otherwise know as the mark of the beast or Antichrist. And once these chips are implanted in us, well, the Antichrist has won and we are in big trouble.
We are warned to not comply with the chip implant program even though it means 'THOSE WHO DO NOT SUBMIT WILL BE SYSTEMATICALLY EXCLUDED FROM EVERY ACTIVITY!" But no worries. Because it sets the stage for the 'SECOND COMING OF JESUS CHRIST!! THE RAPTURE OF THE CHURCH IS IMMINENT!!" So it's kind of a no win-win situation.
When I see these subway preachers, rogues and true believers, I take their literature, I listen to what they have to say, try to greet them warmly with my eyes. They are on their own path, one that is not my own. But ultimately we are trying to reach the same place, a sort of union with something greater than ourselves, even if our vision of how to get there is very different.