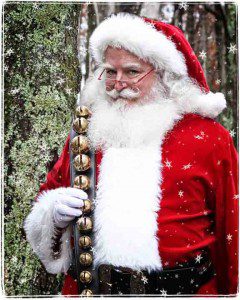 It's that time of year again—the time when many Christians begin whining that the true meaning of Christmas is being lost. "Let's put Christ back into Christmas!" shouts the sign at the Knights of Columbus hall down the street from me. But I'd like to propose that what we really need this Christmas is a little more Santa.
The idea was planted in my head by the author Thomas Moore in his recent book A Religion of One's Own. Moore reminds us that Christmas has become a holiday for almost all of us, even those without a particular interest in Jesus or ties to Christianity. Because of this, Moore suggests that we:
Put Santa—his name means "saint" or "holy", the spirit of conviviality and generosity, without any reference to any particular formal religion—back into Christmas. It's everyone's religious holy day, and it's "true" meaning is universal.
Santa is all about giving. But let's expand that idea beyond the exchange of presents and make it about the offering of compassion and love. The timing is perfect, as the holiday season connects us with those we care about most—and there is no more powerful gift we can offer than to show our friends and loved ones how much they mean to us.
While a thoughtful gift is one way to show that we care, we should remember that a kind word or gesture is often just as impactful. I'm going to borrow an idea I wrote about a few years ago, a simple way to show our appreciation to others via John Templeton. I repeat this not just for you, the reader, but as a holiday reminder to myself as well:
There's an easy way to elevate the lives of the people you encounter each day. And all it requires is that you engage in three simple actions, with each friend, co-worker and loved one you come across: 

o   Recognize

o   Encourage

o   Praise

Recognize involves moving through life alert and aware, greeting those you know, and even those you don't, with eye contact, a warm smile and a holiday greeting. Give loved ones a hug or a kiss. Then, take one of two next steps. Encourage those who need a kind word, appear to be having a rough day or who need to be uplifted. Praise those who are adding anything of beauty or value to the world, whether it's commending them on a good deed or a smart fashion choice.
Recognize. Encourage. Praise. I call it REP, based on the first three letters of the words in this activity. And what better time to add REP to your life than right now, in the days leading to Christmas and the New Year. It's easy, it won't cost you a thing, and its value to those you encounter is priceless. 
The electronics retailer Best Buy has a TV commercial airing now about "winning the holidays". But this holiday season, lets make winning not about giving the most expensive gifts, but by showing our love and compassion for those around us. By doing this, we will have put Santa back into Christmas—and, I believe, put the spirit of Christ back into Christmas, as well.