If you had the choice, would you rather be happy or content? I've written about happiness several times on these pages, but it recently dawned on me that there's a subtle difference between the two words.
While the dictionary definitions of happy and content are fairly similar, for me happiness is best represented by this image: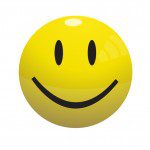 If you're familiar with the happy face emoji, you may know that the same face is shown conveying a number of different emotions. It can be smiley or sad, sleepy or stressed, surprised or pensive. They are the many feelings we often cycle through on any given day and they serve as a reminder: Happiness is often fleeting, here one moment and gone the next.
On the other hand, when I think of contentment, this picture comes to mind: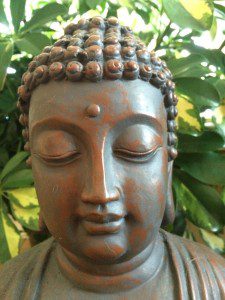 Is there a more peaceful countenance than that of the classic Buddha? I have many similar-looking Buddha statues around my own home and they serve as constant reminders to take a breath. Get centered. Be.
The good thing about contentment is that it lasts. Happiness comes. Happiness goes. Contentment stays. The contented state-of-mind, once established in the morning, can be maintained throughout the day.
While outside circumstances may change, when we're content, we remain calm and centered. We are at peace with the world, no matter what the world sends our way. To quote the poet Rudyard Kipling, we "meet triumph and disaster, and treat those two impostors just the same."
In a classic book by John Templeton, I ran across a 10-point list the author attributes to an obscure metaphysical author named Rebecca Clark. The list is important because I believe it calls out the keys to living a contented life. Rebecca's words are in bold type, my thoughts follow with a little help from Mr. Templeton:
Know who and what you are. Find yourself. Be secure in the knowledge that you are a unique individual and have value to add to the world.

Count your blessings. Never forget the good that already exists in your life. Give thanks for it daily.
Act maturely. Learn from life, continue to grow mentally and spiritually, but always wear your learning lightly.
Eliminate fear. Look fear in the eye and befriend it. Remember the worst possible thing that can happen is usually not as bad as a fearful mind might think.
Give of yourself. Love. Service. Praise. Help. Encouragement. Friendship. Kindness.
Value simplicity. Because the simple pleasures in life are often the best. (But you already know that.)
Welcome changes. They are often for the better. Learn to flow like a gentle river through the changes that enter your life.
Exercise the law of unlimited supply. If you believe it's possible, it becomes possible. "What the mind can conceive and believe, it can achieve." ~Napoleon Hill
Pause to enjoy life. Get off your phone and appreciate the beauty around you. A tree. A painting. The sunset. Your child. Your partner.
God first. All of us are a little better, a little stronger, a little more centered, when we realize God is always at our side.